Handy and capesize markets soften while panamax continues climb
The Baltic Dry Index reflected the trends in the handy and capesize markets as it rose from 1103 to 1146 on 11 July, but then slipped to 1074 one week later.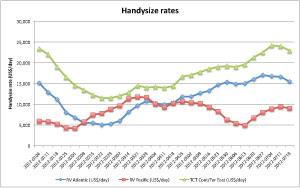 After a stable week ended 11 July, the handysize market experienced a softening the following week, particularly in the Atlantic Basin where day rates fell from US$16,600 to US$15,447 for the RV Atlantic contract on 18 July. The Pacific counterpart noted a four per cent drop from US$9400 to US$9000. Few new cargoes were observed as the summer lull is upon the sector.
To continue reading this story and have 100% free access to the CemNet.com website, please Register for a subscription to International Cement Review or Login