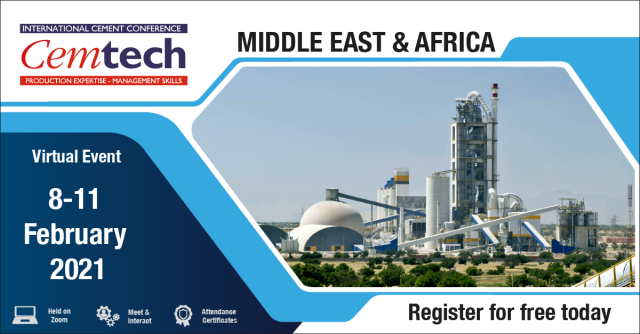 Cemtech held its annual flagship Middle East & Africa conference as a virtual event on 8-11 February 2021.
After a period of unprecedented global turbulence, the conference explored the major developments underway in the regional cement industry, examined key challenges and provided a unique platform for informed discussion and knowledge-sharing.
Confirmed presentations for Cemtech MEA 2021 include:

The MENA cement sector – present and future: Ahmad Al-Rousan, Secretary General, AUCBM (Syria)
World markets overview and 2021 Forecast: Paul Roger, Managing Director – Building Materials, Exane BNP Paribas (UK)
Regional markets of Oman, UAE, Yemen and the Indian Ocean: Joey Ghose, Raysut Cement Company SAOG (Oman)
Strategic expansion and regional opportunities in West Africa: Yusuf Binji, MD/CEO, BUA Cement Plc (Nigeria)
Technologies and services to support sustainable growth in the MEA region: Matthias Mersmann, KHD Humbolt Wedag (Germany)
Commissioning a cement plant remotely – a case study: Fouad Kammoun, ThyssenKrupp Industrial Solutions (Germany)
Lubricants and services for key machines in the cement industry: Klaus Holz, Fuchs Lubritech GmbH (Germany)
The road to recovery: Karsten Horn, INFORM (Germany)
Blaine prediction using analytics: Sandeep R, Bharatharaja M, ABB India Ltd (India)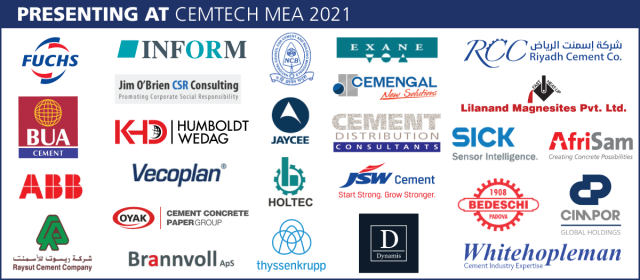 This event is organised by International Cement Review with the kind support of the Arab Union for Cement & Building Materials (AUCBM).