Cement News from International Cement Review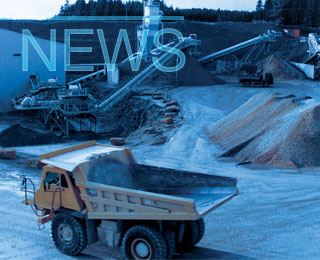 Grey cement dispatches in Colombia slipped 1.1 per cent YoY to 1.122Mt in December 2022 from 1.135Mt in December 2021, according to the country's statistics agency, DANE. Bagged cement sales in December 2021 were down by 2.9 per cent YoY but this was offset by a 2.9 per cent increase in bulk sales. The 12.5 per cent YoY increase to ready-mix cement companies was unable to offset the decline ...
Italian cement production fell by 10 per cent YoY in November 2022, according to the country's construction chamber, Federbeton. When compared with the 2015 base index production the value declined from 102 in October to 85 in November. Cement prices in November 2022 increased MoM to 212 when compared with the base year of 2015 (=100). Federbeton also reported a 69 per cent increase when comp...
By Frank O. Brannvol, Brannvoll ApS, Denmark lAs China reopens, oil is finding support, seeing a recovery in oil prices to surpass the US$85 mark. The warm winter in Europe and lower gas prices are taking off the pressure for demand in the region. However, Russia's discount is still in place for countries that do not sanction Russian gas supplies (China, India and Turkey). Meanwhile, coal...
By Brannvoll ApS, Denmark The USG Supramax freight market went through ups and downs in December. In the first half of the month, the USG segment showed a steady flow of fresh enquiries. Owners started to raise their offers in response to an abundance of fronthaul petcoke cargoes combined with a decent volume of grains. Closer to the end of the month, sentiment started changing: activity le...
French refractory supplier Calderys has become an independent company encompassing the full scope of the high temperature solutions (HTS) business area formerly under Imerys. The new company is owned by US-based Platinum Equity (PE) following the successful completion of regulatory approvals and customary closing conditions. Calderys operates a global network of experts and 36 industrial sites...
Mitsubishi Cements plans for a cement warehouse at the Tenth Avenue Marine Terminal at the Port of San Diego, USA, look to have been blocked by public objections on the potential pollution caused by trucking cement. A Nevada-based company trying to build a cement warehouse halted talks with the Port of San Diego this week on the project. Mitsubishi Cement Corp wanted to ship 600,000t...
Australian construction materials supplier Hallett Construction Materials Pty Ltd has award the contract for a complete grinding circuit at its Port Augusta cement plant in South Australia to Christian Pfeiffer. The grinding system includes a 5.0m diameter x 16.25m ball mill and a QDK T 250-Z high-efficiency sepator as core equipment, along with auxiliary equipment and conveying systems. Th...