Cement News from International Cement Review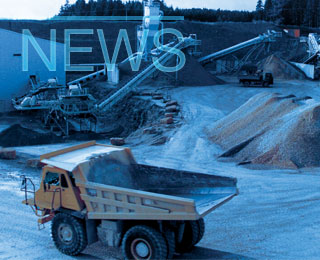 Cement sales in Vietnam declined 11 per cent YoY to 4,471,258t in August 2023 when compared with August 2022, according to the Vietnam National Cement Association (VNCA). Of this total, VICEM reported sales of 1,375,727t, down 12 per cent YoY, while other VNCA member companies saw sales fall by 16 per cent YoY to 995,531t. Non-VNCA member sales decreased by nine per cent YoY to 2,100,000t in A...
Cement consumption in Spain fell by 1.3 per cent in July and by 7.9 per cent in August 2023 when compared with year-ago volumes, according to the country's cement association, Oficemen. In July demand declined to 1,208,697t and in August 1,058,267t of cement were sold. "Although the holiday months are usually moderate in consumption, this year other variables have been added: the post-elector...
Pakistan's cement industry saw significant growth in cement exports, both over land to Kabul and further afield by sea during 2MFY23-24 due to the depreciation of the Pakistani rupee and the falling prices of Afghan and local coal. According to AKD Securities Ltd, cement exports are expected to show growth going forward, driven by the viability of export prices, particularly in light of dec...
By Brannvoll ApS, Denmark The USG Supramax spot freight market started the month on a strong note. Rates were rising across all routes as a region was supported, especially on fronthaul directions, which were dominated by petcoke trades. However, in the second half of the month, rates started slipping below the previous levels due to limited fresh demand, while tonnage continued to pile up ...
CEMEX is in talks with its banks over the refinancing of a US$3bn credit facility, according to Reuters. Fernando Gonzalez, the company's CEO, hinted that refinancing might be an option back in July this year following CEMEX's upgraded outlook to 'positive' by ratings agency Fitch. "We're in current discussions with our banks, because the biggest amount of debt that is maturing is bank d...
Düsseldorf-based technology group GEA has announced its carbon capture portfolio for the cement sector and other high-emission industries, aimed at making decarbonisation both efficient and cost-effective. The company also said its solutions have shown remarkable results in practical trials conducted at the Phoenix Zementwerke  pilot plant in Beckum , Germany, reducing CO 2 emissions in ...
Deccan Cements Ltd has awarded Humboldt Wedag India (a KHD company) a contract to increase capacity at an existing Bhavinipuram clinker grinding plant in India. The upgrade will also allow the company to produce both ordinary Portland and pozzolana Portland cements (OPC and PPC) on the same mill. The plant currently comprises a single ball mill producing 155tph of OPC at 2900 Blaine. Foll...