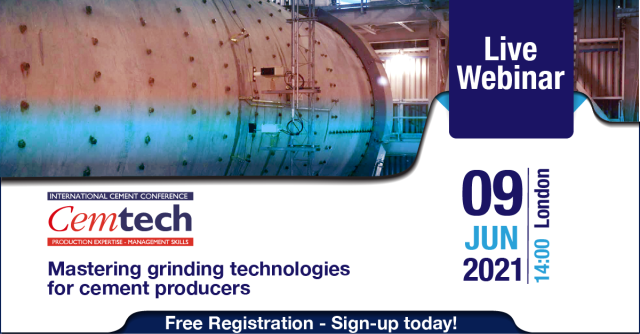 Live Webinar: Mastering grinding technologies for cement producers
Date: Wednesday, 9 June
Time: 14:00, UK
Venue: Zoom
Free registration:
https://us02web.zoom.us/webinar/register/9016207451347/WN_crMI7q5uSIuWt8SCA7bGqw
This webinar will provide attendees with an overview of state-of-the-art grinding technologies for cement plants, with a focus on techniques for the optimisation of ball mill and vertical roller mills.

Over the course of four presentations given by technology leaders, attendees will gain insights into mastering competitive and sustainable cement grinding operations with improved energy saving, efficiency and operational excellence.

Key themes will include: monitoring and mill performance management, operational parameters and mechanical adjustments, reducing water consumption, CO2 emissions reduction, production of cements with supplementary cementitious materials (slag, fly ash etc), use of chemical additives, cement quality and much more.
Confirmed presentations include:
Levers to pull for grinding process optimisation: Caroline Woywadt, Gebr Pfeiffer SE (Germany)
CO2 reduction through mill optimisation and the application of CO2ST® Reducer chemical additives: Keith Marsay, GCP Applied Technologies Inc (USA)
Mill design considerations when grinding fine cements: Tim Nowack, Christian Pfeiffer (Germany)
Mill monitoring thanks to flow measurement: Bernhard Pohle, Envea (Germany)