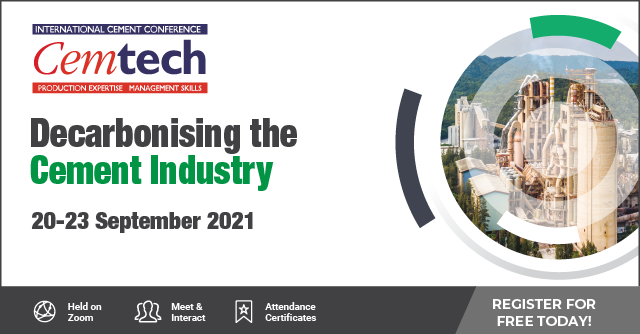 Cemtech: Decarbonising the Cement Industry
Date: 20-23 September 2021
Free registration:
https://us02web.zoom.us/webinar/register/WN_lMVINhEGTz-ma3UKYlS9Hw

The challenge of decarbonising the cement industry by 2050 is monumental and will require the total commitment of cement producers and technology suppliers working in close partnership.

Decarbonisation is driving rapid technological change, with consequences for manufacturing processes, competitiveness and, in the long-term, business viability.

Successful companies will need to master new technologies while navigating changing regulatory frameworks and responding to the high expectations of stakeholders, investors and consumers.

Over four days, eight sessions and over 25 presentations, this annual Cemtech event will provide the ultimate forum for the global cement sector to share best practice, new technologies and innovations regarding the delivery of sustainable, low-carbon cement manufacturing.

Register now to hear keynote speeches from industry leaders and learn from world-class experts.
Outline programme:
Monday, 20 September 2021
Session 1: Keynote presentations – decarbonising the cement industry
Session 2: Pathways to net zero
Tuesday, 21 September 2021
Session 3: The digital cement plant
Session 4: Advances in co-processing and alternative fuels
Wednesday, 22 September 2021
Session 5: Clinker substitution and calcined clays
Session 6: Renewable energy and waste heat recovery
Thursday, 23 September 2021
Session 7: Energy efficiency and grinding
Session 8: Carbon capture, utilisation and storage