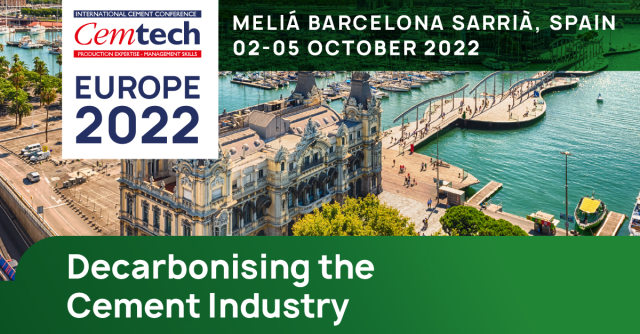 Cemtech Europe 2022 is a major in-person conference & exhibition, taking place in the bustling Mediterranean city of Barcelona, Spain on 2-5 October 2022.
This conference will address the cement industry's ambitions to deliver sustainable, low-carbon cement, in-line with the 2030 carbon reduction targets, while navigating the major economic forces impacting businesses at present.

"The cement industry is investing billions in order to meet 2030 carbon reduction targets"

Cement industry decarbonisation is driving rapid technological change, with consequences for manufacturing processes, competitiveness and, in the long-term, business viability.

Combined with this, a challenging and ever-changing operating environment, means that cement businesses must transform their businesses. Successful cement companies need to master a wide range of new technologies while navigating changing regulatory frameworks and responding to the high expectations of stakeholders, investors and consumers.

This Cemtech conference & exhibition will provide the ultimate forum for the worldwide cement sector to share best practice, evaluate new technologies and learn about the latest innovations, while supporting the priority of sustainable, low-carbon cement manufacturing.

Cemtech's return to in-person events promises to be an unmissable event, offering a packed conference programme covering market and technology developments, a large equipment exhibition, plus an extended programme with cement plant tour alongside unrivalled hospitality in the great Mediterranean city of Barcelona.

Join this meeting for:
Outstanding networking opportunities
Content-rich conference programme featuring world-class expert speakers
Equipment exhibition
Cement Plant tour
Superb conference venue in destination city of Barcelona

Who will attend?
Cement producers
Equipment suppliers and technology experts
Industry associations
Industry analysts
Cement traders
Consultants
Financial institutions
Exhibition and sponsorship
To request the exhibition stand plan and prices or sponsorship information, please contact Sales@CemNet.com

Call for papers
Speaker proposals, including title and speaker CV, should be sent to info@Cemtech.com by 31 May 2022.