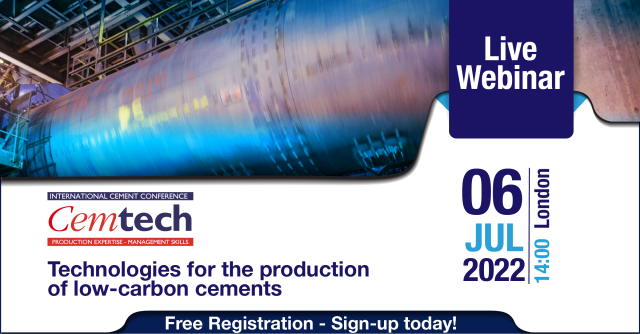 Cemtech Live Webinar: Technologies for the production of low-carbon cements
Date: Wednesday, 06 July 2022
Time: 14:00 UK (GMT+1)

Free to Register:
https://us02web.zoom.us/webinar/register/WN_-Kk0OkKaQziH4viGOmgKUQ
Clinker reduction is a key lever in the decarbonisation of the cement sector, enabling producers to reduce their CO2 emissions and help meet their individual sustainability roadmaps. This live event not only looks at the changing role of traditional clinker substitutes, such as slag and fly ash, but also newer alternatives, including calcined clay. We examine current trends in grinding technology for the manufacture of low-carbon cements, and discuss the role of cement additives in allowing for greater clinker replacement without compromising on strength and performance.

Experts from Christian Pfeiffer, Chryso and FLSmidth will assess the latest trends and technologies. Join us on Wednesday 6 July 2022 to find out more. Registration is free via the link above.