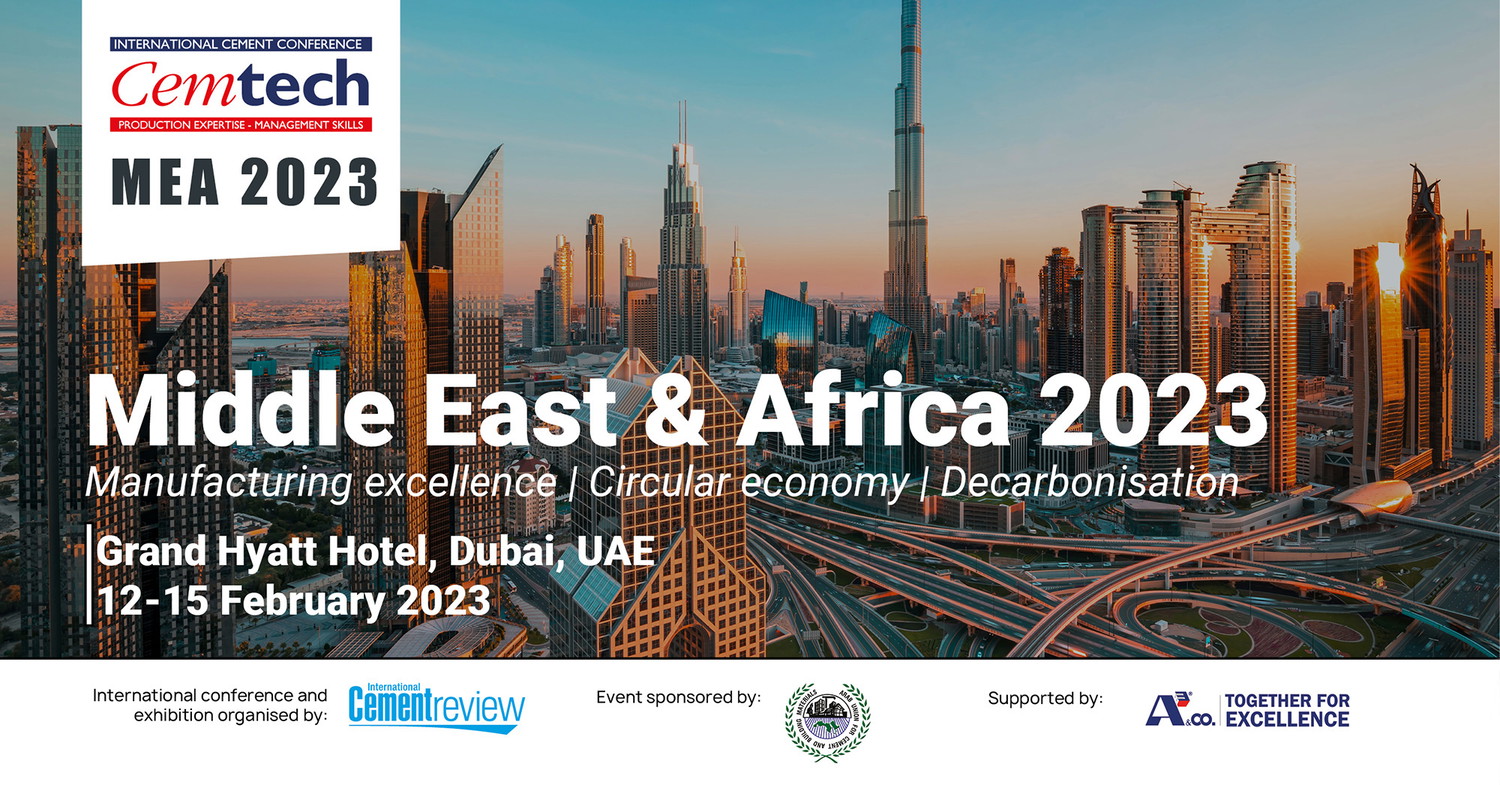 Cemtech Middle East & Africa 2023 conference and exhibition will take place at the Grand Hyatt Dubai on 12-15 February 2023.
Manufacturing Excellence | Circular Economy | Decarbonisation

Cemtech returns to the international hub and desert metropolis of Dubai, UAE, for the next edition of the Middle East & Africa conference and exhibition. Fully refreshed, sponsored by the AUCBM and supported by our partners, A3&Co.®, this event promises to be unmissable for all cement industry stakeholder operating in the MEA region.

A comprehensive presentation programme will cover the latest news from the global cement markets, while providing in-depth coverage of key production technologies, including the digitalisation of cement plants, alternative fuels and the development of new, low-carbon cements.

In addition to showcasing the best examples of successful proven technologies, the programme will also spotlight advances in net zero and
 breakthrough technologies, including carbon capture, usage and storage (CCUS), renewable energies and hydrogen combustion.

The event will combine conference presentations with interactive discussion panels and breakout sessions.

Together with a world-class exhibition, extensive networking opportunities and generous hospitality programme, Cemtech MEA 2023 offers the most complete conference experience available all year.

Come and join us in Dubai!
Meet with 250 cement professionals in Dubai for the industry's leading conference
and exhibition:
In-person event with extensive networking opportunities
Content-rich conference programme featuring world-class expert speakers
Over 25 papers covering market and technology developments
27-stand equipment exhibition
Cement plant tour
World-class conference venue in the destination city of Dubai
CALL FOR PAPERS!
If you would like to participate in the speaker programme, please send your presentation proposal, including title and abstract by 30 November to: info@cemtech.com

EXHIBITION
Cemtech MEA 2023 will feature a 27 booth exhibition, with leading suppliers to the cement manufacturing industry in attendance. To enquire about exhibiting at this event, please contact: sales@CemNet.com