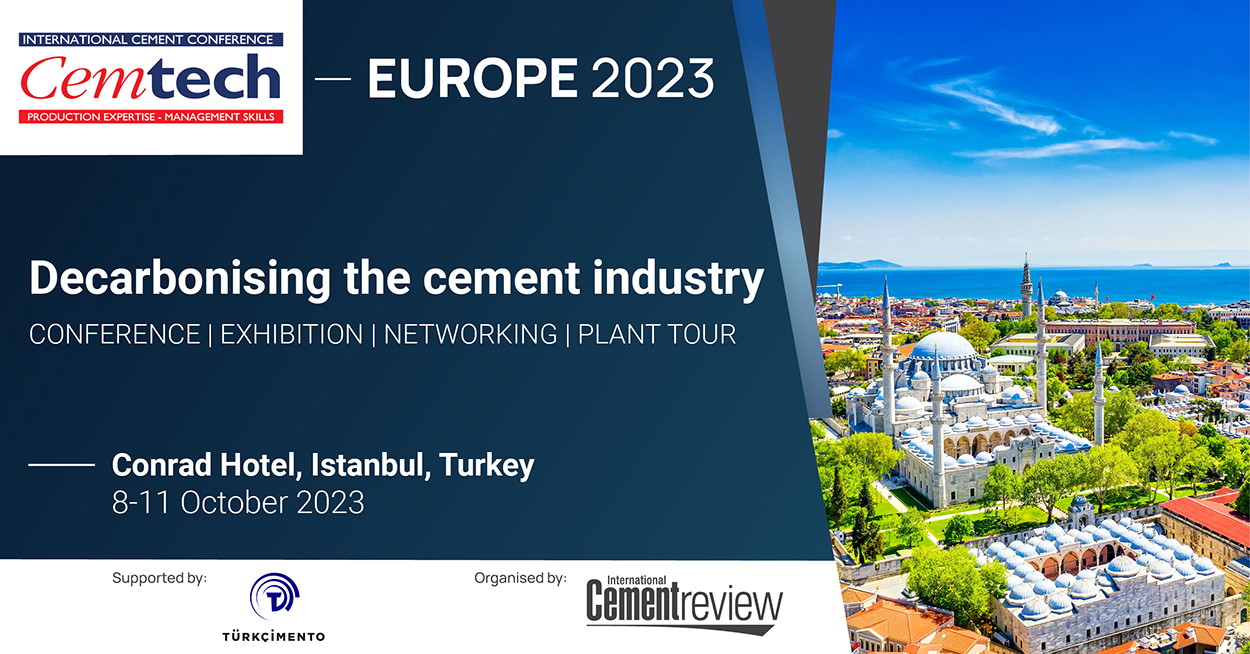 Cemtech Europe 2023: Decarbonising the cement industry
Conrad Istanbul, Turkey | 8-11 October 2023

The transition towards low-carbon cement manufacturing is accelerating, enabled by technological innovation and driven by the changing demands of consumers.

Following the success of the Cemtech conference in Barcelona last year, Cemtech Europe 2023: 'Decarbonising the cement industry' will take place this year at the magnificent Conrad Istanbul, Turkey, on 8-11 October 2023.

Organised by International Cement Review and with the kind support of Turkcimento, the Turkish Cement Manufacturers' Association, this major annual conference and exhibition will gather world experts in cement manufacturing technology, from state-of-the art technology suppliers to pioneering cement producers, to share their expertise, experience and insights into manufacturing excellence.

Meet with international cement professionals at the industry's leading conference and exhibition:
• In-person event with extensive networking opportunities
• Discussion panels with CEOs and world-class experts
• 25 papers covering market and technology developments
• 30 stand international exhibition area
• Superb hospitality programme and Gala Dinner
• Field trip to local cement works

In a rapidly transforming building materials sector and across markets worldwide, cement producers are innovating fast, adopting new technologies and approaches to cement manufacture.

This Cemtech conference and exhibition will provide delegates with the opportunity to analyse the trends that are impacting the industry, learn about the strategies and technical pathways to net zero cement production, evaluate new and innovative low-carbon technologies, including carbon capture, and learn how to prepare your business for the challenges of the future.

Exhibition booths & Sponsorship
For exhibitor and sponsorship opportunities, contact Russell Bateup, r.bateup@CemNet.com.
Call for papers – speak at Cemtech Europe 2023
If you would like to make a presentation at Cemtech Europe 2023 and have an outstanding case study or technical innovation that you would like to share, please send your presentation title and proposal (250 words) to: info@Cemtech.com. Deadline for applications: 12 June 2023.

Presentations will be considered for the following topics, including but not limited to:
Cement industry and the circular economy
Carbon management: policy, regulatory developments, carbon trading
Carbon mitigation/low-carbon technologies
Alternative fuels: preparation, handling & storage, dosing, combustion systems, hydrogen applications
Clinker reduction and low carbon cement development
Calcined clay production, ternary cements, novel cements
Carbon capture, utilisation and storage technologies
Digitalisation and smart plants, including AI/ML for kiln optimisation and maintenance
General practice: quarry operations, raw materials management, quality control, grinding and crushing, pyroprocessing, refractories, emissions monitoring and control, plant optimisation, maintenance, bulk materials handling and storage, plant engineering modifications and upgrades.