The Cement Plant Operations Handbook 7th Edition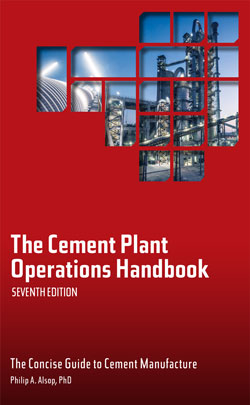 The essential reference for cement producers
Fully updated in 2019 and extended with a new alternative fuels section, the Seventh Edition of the Cement Plant Operations Handbook is now available free of charge to International Cement Review subscribers.
Covering some 340 pages, the cement industry's favourite technical reference book provides in-depth information of the various aspects of cement production from raw material extraction to the finished product. Key sections covering burning, grinding and quality control are supported by a range of essential chapters on cement hydration, plant reporting, maintenance and much more.
Table of contents

1 Introduction
2 Raw materials
3 Raw milling and blending
4 Flames and fuels
5 Burning and cooling
6 Cement milling
7 Quality control
8 Maintenance
9 Environment and pollution control
10 Hydration of Portland cement
11 Plant reporting
12 Accounting
13 Technical and process audits
14 Plant assessment list
15 Cement plant construction and valuation

Process calculations:
B1 Power
B2 Fans and air handling
B3 Conveying
B4 Milling
B5 Kilns and burning
B6 Fuels
B7 Materials
B8 Statistics
B9 Miscellaneous data
B10 Conversion tables

Since its first edition, published in 1995, over 27,000 copies have been well-received by cement companies worldwide, including industry leaders such as LafargeHolcim, HeidelbergCement and Cemex, as well as countless independent producers. It is commonly used for various in-house training initiatives as well as the go-to reference book for cement plant operators.
Order your copy of the handbook

Subscribe to International Cement Review for one year (12 issues) and we will send you a copy of the handbook for free!
To order additional copies, please email: subscribe@CemNet.com
Please note: This reference book cannot be purchased without a subscription to International Cement Review