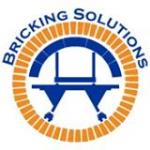 Gold Sponsor
+1-360-794-1277
1144 Village Way Monroe Washington 98272 United States
Bricking Solutions, a division of Brokk, offers the best, most comprehensive system available for kiln refractory maintenance. The Circle of Refractory Maintenance revolves around easy access, rap ...
Silver Sponsor
+57 318 215 1615
Calle 13 No.23D-30 Cali, Colombia
Satarem's vision is to continuously improve manufacturing technologies and cement manufacturing equipment efficiency. Thanks to our patented technologies and special designs for complete ceme ...