Gold Sponsor
+49 2521 240
Oelder Str. 40 Beckum 59269 Germany
The BEUMER Group based in Beckum, Germany, with affiliations around the globe develops and implements system solutions for conveying, loading, palletizing and packaging. In the cement industry thes ...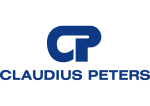 Gold Sponsor
+ 49 41 61 706 0
Schanzenstrasse 40 Buxtehude D-21614 Germany
Since 1906, Claudius Peters has become one of the world's most respected engineering houses and an innovative world leader. It's German engineering excellence continues to set benchmarks for ...