34170 posts
Time
Posted 10/02/2017 15:54:22
The world in 2016 and outlook for 2017
This year will be a challenging year for the multinational cement companies, which are now faced by uneven economic performance in the emerging markets, combined with a new era of global political uncertainty that could further destabilise markets. On balance, however, global growth looks set to be anchored by positive trends in the major markets of China, India and the US, more than offsetting the poor performance elsewhere.

The large cement majors have spent years diversifying their portfolios in a strategic effort to capture growth in the emerging markets, so the performance of these high-growth markets are vital to the financial health of the larger groups. LafargeHolcim now derives approximately 60 per cent of its EBITDA from emerging markets, while for HeidelbergCement, the figure is closer to 52 per cent.
However, while the fundamentals of high population growth and development needs provide the foundations for long-term cement demand growth in emerging markets, the economic and political realities do not always permit this potential to be realised.
2016 was a year of mixed fortunes, with increased pressure on cement in some key markets, as shown in the figure below.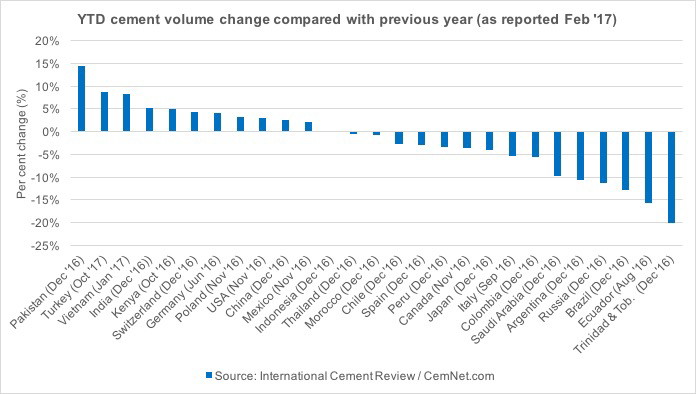 Latin America
Latin American cement demand had a challenging year in 2016, with consumption severely down in many of the key markets, including Ecuador, Brazil and Argentina – all key markets for LafargeHolcim. In Colombia, Argos' home market, growth weakened and the outlook remains negative for 2017. Mexican volumes held up at 2.5 per cent, but with the economy so reliant on its links to the US and the deteriorating relations with the newly-elected Trump administration, the outlook for the country is uncertain. The region's largest market, Brazil, experiences another disappointing year, with demand falling by 12.6 per cent after a 10 per cent drop in 2015. Major groups operating here include Votorantim, Intercement, LafargeHolcim as well as CRH – the new entrant following its acquisition of assets from the Holcim and Lafarge. Luckily for HeidelbergCement, Latin America is its one blindspot and with no capacity in the region, it will escape this current downturn.
Africa
Across to Africa, and the demand side picture looks more optimistic. While Algeria was impacted by lower oil prices, continuing growth will benefit LafargeHolcim, whose new 5000tpd Lafarge CILAS plant was commissioned in 2016. Morocco's growth faltered in 2016 but remains a substantial market with good long-term potential. Egypt advanced significantly in 2016 (+9.5 per cent). Last year's currency devaluation in Egypt, however, has greatly increased costs and will undermine margins for the operators active in this important market, including Cemex, Intercement, LafargeHolcim, Titan and HeidelbergCement (post Italcementi acquisition).
In sub-Saharan Africa, the markets enjoyed largely positive growth rates, but significant supply-side developments mean that demand is not expanding at the same rate as capacity, resulting in tough competition and pricing pressures, notably in Senegal, Nigeria, Ethiopia and Tanzania where Dangote has launched large-scale operations. This situation is good for the African consumer, who is increasingly benefitting from more plentiful supply of cement at affordable prices, but less positive for producers, including LafargeHolcim, HeidelbergCement and Dangote with high exposure to the region. Where cement regularly commanded pricing levels of over USD250/t, we are now witnessing prices in the US$150/t region.
Middle East
Over to the Middle East, the impact of low oil prices, which was felt from 2H2014 onwards, provided something of a shock to the GCC nations, which are now accelerating efforts to diversify their economies. The cost of transitioning these economies, combined with lower revenues from oil, is placing budgetary constraints that have undermined the pace of construction growth and cement consumption.
In Saudi Arabia demand last year fell by around eight per cent and cement producers were left facing ever-increasing clinker inventories, with a domestic stockpile of 28Mt by the year end – behaviour presumably encouraged by the fear that energy subsidies could be cut or removed without warning.
Nevertheless, on a regional basis, cement demand will receive support from increased infrastructure expenditure as governments invest in broadening the economic base, with consumption in the GCC now approaching 100Mta (see ICR February 2017).

Asia
Demand has been strong on the Indian subcontinent, with growth in Pakistan (+14 per cent) stimulating new capacity investment. In the much-larger market of India, demand accelerated to six per cent in 2016, although the tail end of the year was disrupted by the government's demonetisation initiative, the impact of which is likely to follow on into the first quarter of 2017. India also experienced a weak pricing environment and higher energy costs last year, which weighed on corporate performance. Analysts are hoping that the good monsoon will generate positive economic momentum in 2017, indicating an optimistic outlook for the world's second-largest cement market in 2017.
Southeast Asia saw good domestic consumption volumes in the Philippines in 2016 (+8 per cent) but only marginal growth in Vietnam, with much of the expanding production surplus now being successfully exported. Contrastingly, in Malaysia, demand fell steeply (-11 per cent) while in Indonesia, the great potential was never realised with growth only just above two per cent. Nevertheless, the high level of expectation for demand growth in Indonesia has resulted in massive investment in new capacity which has now tipped over into oversupply and placed pressure on prices, undermining margins and impacting both LafargeHolcim and HeidelbergCement (PT Indocement).
All eyes were on China in 2016, after consumption fell in 2015 increasing fears that a sharp collapse in domestic demand would result in a surge of unwanted cheap exports into the region and beyond in the traditional African markets. In the end, demand held up, with modest growth noted at around 2.5 per cent. Over 2017 demand is expected to soften, with possible negative growth. As long as the pace of industrial reorganisation, including mergers and acquisitions aimed at consolidating capacity, is maintained, China will adjust to a new era of gentle consumption decline without unduly impacting the global supply-demand balance.
Europe
Meanwhile in Europe, some positive trends in mature markets (France, UK, Germany) have more than offset the continued weakness in Spain and Italy. Eastern Europe remains fragile and Russia had a poor year: official statistics indicated an 11 per cent drop in production in 2016, but these are often optimistic. Growth in oil prices over 2017-18 offers some hope of a recovery over the next 12 months.
North America
North America is likely to provide an important counterbalance to the weakness in other markets in the year ahead. While growth in Canada will remain fragile (-3.7% in 2016), the US is seeing consumption levels accelerate (November 2016 shipments up 8.2 per cent YoY). The PCA reckons full-year 2016 demand will reach 2.7 per cent in 2016, down from its original five per cent forecast.
Looking forward, President Trump's 'America First' policies and commitment to higher spending including up to US$1trn on new US infrastructure plans is certainly expected to benefit domestic cement consumption. This will translate into increased profitability for all the major cement groups, but in particular HeidelbergCement following the post-merger integration of the Essroc/Italcementi facilities. In 2017 the PCA forecasts cement market growth to accelerate to 3.1 per cent.
The impact of Trump on the global cement sector is more uncertain. His aggressive stances on global trade, currencies, multinational institutions are expected to reshape the world in unpredictable ways and this could have negative consequences for emerging markets, although it is still too early to call.
Conclusion
Although there have been some concerning trends evident in the performance of certain emerging markets in 2016, there are grounds for optimism going forward. Overall volumes are expected to be modestly positive in 2017, while on a global level the supply-demand balance is slowly correcting, as argued by HSBC in the January issue of International Cement Review. Emerging market growth outside China, it argues, is expected to outstrip new capacity over the 2017-18 period, restoring the balance for the first time since 2013. This is good news for the international players, and we look forward to reporting on these trends over the year ahead.
Know the answer to this question? Join the community and register for a free guest account to post a reply.
1 posts
Time
Posted 16/02/2017 05:01:03
re The world in 2016 and outlook for 2017
Hi
This is Ryan Faruk from Premier Cement Mills Ltd, Bangladesh. Any statistic on the cement market of Bangladesh?