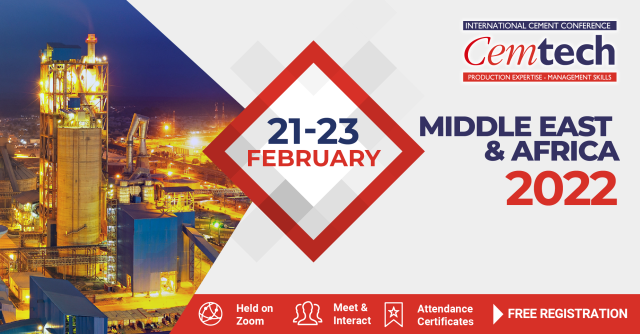 Virtual conference: Cemtech Middle East & Africa
Date: 21-23 February 2022
Free registration:
https://us02web.zoom.us/webinar/register/WN_L5yZC6zZRxiWoZ6oqw8AGA
Cemtech will hold its annual flagship Middle East & Africa conference as a virtual event on 21-23 February 2022.

The meeting will explore major developments underway in the regional cement industry including:
In-depth industry analysis, corporate developments and cement market forecasts
Insights into the latest technology trends from digitalisation to alternative fuels, as well as sessions dedicated to process technology, grinding, bulk materials handling, quality control and more
Case studies from around the world showcasing best practice cement manufacturing techniques, including a plant tour
Download the full conference progamme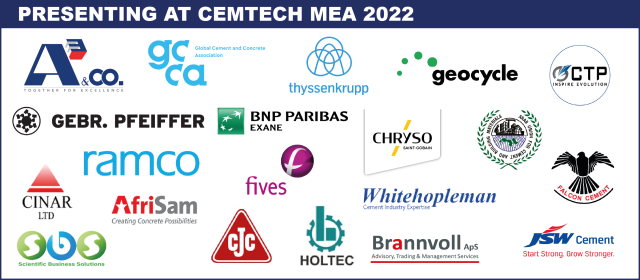 Confirmed speakers at Cemtech MEA 2022

The use of alternative fuels in the Middle East & Africa: Medhat Ismail, Head of Geocycle, Middle East & Africa (UAE)
Energy, freight and carbon focus: Frank Brannvoll, Managing Director, Brannvoll ApS (Denmark) and Maria Vasyutenko, Associate, Brannvoll ApS (Denmark)
Global cement sector overview and 2022 market forecast: Paul Roger, Managing Director - Building Materials, Exane BNP Paribas (UK)
Post-pandemic cement strategies for Africa: Tony Hadley, Managing Director, Tony Hadley African Advisory Ltd
Reducing the carbon footprint of cement plants: Stephan Pallmann, thyssenkrupp Industrial Solutions AG (Germany)
Keeping it 'Green' in South Africa: Hannes Meyer, Cementitious Executive, AfriSam (South Africa)

Establishing a new 20MW solar power plant project at Hub Chowki: Irfan Amanullah, Board Member, Attock Cement (Pakistan)

Smart and sustainable cement plants: Simon Jensen, Ramco Group (UAE), Amr Nader, A³&Co (UAE)
Driving decarbonisation and growth agenda simultaneously – a case study on sustainable growth: Manoj Rustagi, EVP - Sustainability, Innovation & Projects, JSW Cement Ltd (India)

Ethiopian cement Industry - today and tomorrow: Jagdeep Verma, Head of Business Consulting, Holtec Consulting Pvt Ltd (India)
Nigeria and the Dangote Cement beacon: Dr Michael Clark, Managing Director, Whitehopleman (UK)
Quick market entry with ready2grind: Roland Martini, Gebr Pfeiffer SE (Germany)
Reducing clinker content, cost and carbon footprint with grinding additives: Sibusiso Hlashwayo, Chryso (South Africa)
Opt for Zero! Unexpected resources to sustain a new future: Marco Rovetta, CTP TEAM srl (Italy)

Towards decarbonisation via combustion methods and technologies: Dr Michail P Akritopoulos, Cinar Ltd (UK)
For more information or to submit speaker proposals, please contact info@cemtech.com

This event is organised by International Cement Review with the kind support of the Arab Union for Cement & Building Materials (AUCBM).