Iraq – open for business
Last September, a delegation of senior ministers from Iraq's government convened in London for the first Iraq Mining conference. The message they wanted to convey was that Iraq, after decades of war and uncertainty, is now ready for business. The economy is open to foreign investors, security has improved, and the opportunity is there for those who wish to seize it. In this exclusive report, ICR examines the potential for the cement sector in Iraq.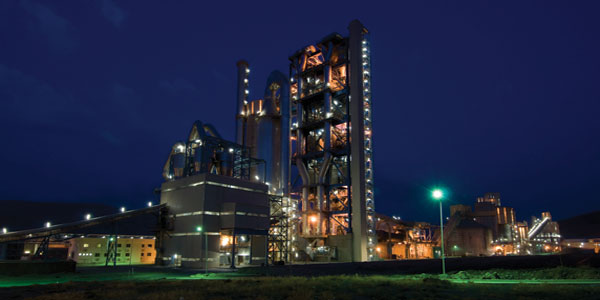 Iraq has experienced unimaginable turmoil over the past three decades, enduring the eight-year war with Iran (1980-88), the Gulf War in 1990, and finally, the US-led invasion in 2003, which toppled Saddam Hussein but released further internal conflict.
War severely impacted the physical and economic development of the country, particularly the mining and industrial sectors. The destruction of production facilities, lack of security, shortages of electrical power and gas supplies, all led to highly disruptive operating conditions and the deterioration of assets, not least for the cement industry. In 1979, activities in the mineral and rare earth industries contributed six per cent to GDP. This figure had fallen to just 1.7 per cent by 2008.
By 2010, however, Iraq was beginning to enjoy a renewed stability. US troops had succeeded in containing the insurgency and by August 2010 all combat troops had left Iraq. It is in this context of renewed stability and improved security that Iraq's government is now intent on harnessing the country's natural resources and accelerating the pace of reconstruction and rehabilitation.
Land of opportunity
That Iraq has an urgent need for development is beyond question and, fortunately, it also has the means. The extent of Iraq's oil resources is huge, making it one of the world's resource superpowers. Estimated oil reserves of 143.10bn barrels, and natural gas reserves of 3.17trnm3 place Iraq third in the world after Saudi Arabia and Venezuela, and ahead of Iran.
This has lead many to speculate on the immense potential of the nation and its economy, which has lain 'dormant' through years of economic sanctions, war and dysfunctional rule. In fact, Dr Sami Al-Araji, chairman of the National Investment Commission, even claims: "The rebuilding of Iraq's economy is quite possibly the biggest global investment opportunity to emerge in the last 50 years."
Looking at the economy as a whole, it is clear that Iraq will be the foremost growth story for the Middle East over the coming decade and beyond. While GDP advances in most of the Middle East and North Africa is forecast to trend at around five per cent over the coming five years, Iraq's growth is predicted to average over 10 per cent over the same period, according to the latest IMF research (see Figure 1).
Iraq's infrastructure needs are enormous and form part of the government's deliberate policy of diversifying the economy away from the hydrocarbon sector, with housing, infrastructure renewal, industry and manufacturing all opening up for investment. The Five-Year National Development Plan for 2010-14 targets economic growth of 9.4 per cent per annum and includes more than 2700 projects, worth up to US$186bn.
How much cement to reconstruct Iraq?
The construction sector will play an increasingly large role in the economy, driving up cement demand rapidly in the process. Consumption is estimated to rise to 25Mta, according to Hussain Obaid, chairman of Southern State Cement Co, although others have estimated higher. That means demand could almost double the 14.5Mt recorded in 2008. The following assumptions were used to justify the 25Mta forecast:
an estimated 3m housing units are required over the next 10 years, translating into a cement demand of 6Mta
assuming a population of 25m and a three per cent growth rate, demand for additional housing units is estimated at 375,000 units each year, translating into 7.5Mta of cement.
renovations of existing buildings is estimated at 1Mta
demand of private sector construction will reach 4.5Mta
public sector construction, including roads, bridges, dams, hospitals, schools and other, is estimated at 25 per cent of total annual demand, reflecting a cement requirement of 6Mta.
Certainly, a 25Mt cement consumption level is realistic, given the country's resources and reconstruction needs. This figure translates into per capita consumption of 833kg, higher than the world average of 550kg, and that of neighbouring Iran (628kg), but still modest compared to other Middle East economies, including Saudi Arabia (1279kg).
Iraq's cement production base
Iraq's production base has a nominal capacity of 19.6Mta (pre-2007 capacity), though actual production only peaked at 11.4Mt in 1989, and has since operated at even lower levels of utilisation, due to war damage and the difficult operating environment.
Table 1: Iraqi cement plants, the first generation, 1949-74

Cement plant

Process

No of lines x tpd

Capacity (Mta)

Baghdad

Wet

3 x 400 + 1 x 200

0.42

Old Badoosh

Wet

2 x 300

0.18

Hindyah barrage

Wet

2 x 300

0.18

Samawa

Wet

1 x 700 + 1 x 1500

0.66

Hammam Al-Aleel Old

Wet

2 x 350

0.21

Sarchinar

Wet

2 x 350

0.21

Total

1.86
Table 2: Iraqi cement plants, second generation, 1974-78

Cement plant

Process

No of lines x tpd

Capacity (Mta)

Kufa

Wet (FLSmidth)

1 x 400 + 4 x 1500

1.92

Hammam Al-Aleel New

Wet (FCB)

1 x 1500

0.45

Al Fallujah

Wet

2 x 700

0.42

Samawa South

Wet (FLSmidth)

1 x 1500

0.45

New Badoosh

Dry (Polysius, Gepol)

2 x 1500

0.9

Total

4.14
Table 3: Iraqi cement plants, third generation, 1979-84

Cement plant

Process

No of lines x tpd

Capacity (Mta)

Kubaisa

Dry/precalciner (KHI)

2 x 3200

1.92

Kirkuk

Dry/precalciner (KHI)

2 x 3200

1.92

Kerbala

Dry/precalciner (Polysius)

2 x 3200

1.92

Tasluja

Dry/precalciner (Polysius)

2 x 3200

1.92

New Badoosh – 2nd Ext.

Dry/precalciner (Polysius)

1 x 3200

0.96

Muthanna

Dry/precalciner (KHD)

2 x 3200

1.92

Sinjar

Dry/precalciner (KHD)

2 x 3200

1.92

Al-Qaim

Dry/precalciner (Uzinexport)

1 x 3200

0.96

Al Fallujah White Cement

Dry/precalciner (Kraus Maffi)

2 x 300

0.18

Total

13.62
The origins of the Iraqi cement industry date back to 1949, when the first rotary kiln was installed in Baghdad by UK company, Edgar Allen. By 1974, some 25 years later, the industry had expanded to just 1.86Mta installed at six sites with 12 wet-process kilns in operation.
A second phase of expansion took place over 1974-78, when an additional 4Mta capacity was added, including the first dry-process lines at New Badoosh.
A third phase of industrial expansion saw an additional 13.6Mta of dry-process capacity installed in the space of just five years between 1979-84 (see Table 3) – in spite of coinciding with the Iran-Iraq War.
By 1984, the Iraqi cement industry had undergone three phases of expansion (see Tables 1-3), with total nominal installed cement capacity reaching 19.62Mta by 1984 (excluding white cement).
Challenges facing the Iraq cement industry
By the mid-1980s, Iraq had a relatively modern cement production base with sufficient capacity to serve prevailing demand. However, subsequent events would prevent it from ever reaching its full potential.
The Gulf War (1990-91), in response to Iraq's invasion and annexation of Kuwait, resulted in severe economic sanctions being imposed on Iraq under a UN Security Council mandate. From 1990-2003, a full trade embargo was in place and banned the import of many of the electrical and mechanical spare parts required by Iraq's cement industry. It became impossible for the domestic industry, which had become reliant on poor quality and locally manufactured spare parts, to maintain designed capacity utilisation rates. The condition of these modern plants, which had been so successfully established at the start of the 1980s, began to slowly deteriorate.
The operating environment also suffered. Sanctions had severely undermined the power generation sector, which in turn was unable to supply the electricity required to operate plants at full capacity. This resulted in reduced operating hours and frequent production stoppages, further undermining production efforts.
As Figure 2 illustrates, demand peaked at 11.4Mt in 1989, but collapsed in 1991 after the Gulf War. By 2002, it had recovered to nearly 7Mta, but the 2003 invasion of Iraq halted any further progress, with domestic production climbing only gradually to 3.5Mta in 2010.
Other issues conspired to undermine the local cement sector, including the removal of government support for the industry, which was forced to sell products at a government-regulated fixed price. This enabled cheaper imports to enter the market, further weakening the local industry which found it difficult to compete on price.
Trade
The collapse of domestic production combined with the post-war drive for reconstruction has resulted in the dramatic influx of cement surpluses from other producers in the region, with total imports amounting to in excess of 10Mta. Turkey is the lead importer, with over 3Mta entering the country (see Figure 3) and similar volumes originating from Iran. Saudi Arabia has been an important source, though on a smaller scale due to government-imposed export limits.
A new Iraq
As the country emerges from its troubled, war-torn history, the new government has opted to rebuild a broad-based economy modelled on free-market principles. The government is now seeking to attract inward investment as a means of accelerating the rehabilitation of the economy, and in particular basic productive industries.
Table 4: average chemical composition of the limestone in Iraq (wt%)

CaO

52

MgO

0.5

SO3

0.3

Source: State Company of Geological Survey and Mining
For the cement sector, the opportunities are significant. Not only is there a high availability of cement-grade limestone in most Iraqi provinces (see Table 4), there is also proven demand. In the short-term, this will be driven by government plans to build 1m houses by 2015, pump up to US$20bn investment into electricity generation, and carry out vital strategic infrastructure investments such as the US$6bn port project at Al Faw, in addition to ongoing work at Umm Qasr, Iraq's only deep sea port.
The government is actively promoting the rehabilitation of the existing production base via joint venture partnerships with local and foreign investors. Since 2007, when the Ministry of Industry and Minerals announced tenders for the rehabilitation of the majority of cement plants in Iraq, Tasluja had already been successfully recommissioned by Polysius AG, and is capable of achieving 90 per cent capacity utilisation rates. Joint ventures have been established with four other producers, namely Sinjar (see Table 5), Kubaisa, Al-Qaim and Karbala. Meanwhile, offers for the rehabilitation of Al Muthanna, Old Badoosh and Hammam Al-Aleel cement plants are still under evaluation.
Table 5: rehabilitation of Iraq production base, 2011

Plant

Investment (US$m)

Kubaisa

150

Al-Qaim

90

Sinjar

150

Karbalah

100

Fallujah

45

Total

535

Source: Ministry of Industry and Minerals
All this progress indicates that Iraq is truly open for business. The government has adopted a policy of encouraging foreign investment, taken measures to modernise the country's legal framework and created investment laws to allow foreign capital to move uninhibited in and out of Iraq.
The operating conditions within the country remain a challenge. Iraq faces chronic power shortages and while the country consumes 7000MW per day, it will require double that to achieve a 24-hour service. Cement producers, therefore, have to rely on their own power sources, substantially increasing capital costs of establishing a plant.

Security remains a genuine concern for investors, with regular news flow highlighting pockets of instability in the country. However, speaking to International Cement Review, Dr Rowsch Nouri Shawis, deputy prime minister of Iraq, insisted that the situation is stable and improving: "We have had tangible achievements reflecting positively on construction. I assure investors that the situation has improved."
Pioneering Lafarge...
Lafarge entered Iraq via its 2007 acquisition of Orascom Cement, which owned two cement plants at Tasluja and Bazian near Sulaymaniyah in Iraqi Kurdistan.

Iraqi Kurdistan is an autonomous region in the north of Iraq which gained de facto independence in 1991. The region is home to some 4m Kurds, operates as a parliamentary democracy, is largely stable and enjoying rapid economic growth.

In 2009, Lafarge inaugurated a new 2.5Mta plant at Bazian in Iraqi Kurdistan, situated some 30km away from Sulaymaniyah, the second biggest city in the region. The company also operates Tasluja, a 2.3Mta cement plant under lease from the government.

In a sign of confidence that Iraq is stabilising, Lafarge has now undertaken to rehabilitate and operate a 1.8Mta cement plant near Karbala in the south. Total cost for the rehabilitation, partially funded by the International Finance Corporation, is US$220m. The project is managed by Al-Ruwad, a company that is 51 per cent owned by Lafarge and 49 per cent by MerchantBridge, an investment house focused on the Middle East region.
... and other projects
1. Sinjar rehabilitation – Sinjar cement plant, located in north Iraq, is currently undergoing a 20-month rehabilitation, which will allow the plant to reach a target production capacity of 1.8Mta. Austroplan Austrian Engineering GmbH (Austria) is overseeing the work alongside Perkam Dis Ti-Caret (Turkey).
2. Mass Global – Sinoma (Suzhou) Construction, a subsidiary of Sinoma International Engineering, has completed construction of a 5000tpd cement plant located near Sulaymaniyah and owned by Mass Global Holding Ltd (Jordan). Sinoma Suzhou were responsible for the design, equipment procurement, construction and commissioning of the new line, which was supplied under EPC contract, and started operations on 1 January, 2010. A second kiln line is currently under construction and will be completed by end-2012.

In January 2011, Sinoma placed an order for an MPS 5000 B Gebr Pfeiffer vertical roller mill for raw material grinding. The grinding plant is designed for a capacity of 450tph.
Iraq will probably be the biggest emerging market in the Middle East for the next 20 years. As the global majors re-orientate their assets towards the emerging markets, they cannot afford to ignore this promising region. Pioneer Lafarge, has shown that it is possible to operate effectively in Iraq, and manage the security risks appropriately. The company is now working on its third facility at Karbala which will give the French group 6.6Mta capacity locally and a dominant position in this dynamic country.
Dr Shawis is optimistic for the future of the sector, but warns potential investors not to delay in participating in the future of Iraq's cement industry: "The forecast need for cement will increase exponentially. Who comes first will gain more." With other global markets reaching maturity or in decline, Iraq is surely one region that serious cement players cannot afford to ignore.
This article was first published in the December 2011 issue of International Cement Review.