2 posts
Time
Posted 04/01/2016 05:25:29
Vertical coal milll application and advantage
Vertical coal mill is typically designed to process materials in medium hardness, like soft coal or bituminous coal, and it is mainly used in positive pressure pulverizing system of soft coal.It is widely used in electricity field, metallurgy sector, building material industry, chemical industry, etc. It is an ideal device that integrates crushing, drying, grinding, and grading conveying all together.
Coal pulveriser design
In general, coal pulverisers are designed to achieve the maximum rated capacity grinding coal with a grind ability of 55 HGI and 8-12% moisture and achieving a discharge fineness of 70% passing a 200 mesh screen (74 micron) and 99.5% passing a 50 mesh screen. Variation of the coal hardness and moisture content will effect, up or down, the discharge capacity or the discharge fineness.
To achieve these design considerations it is essential that the grinding elements are in good condition and they maintain a consistent profile. The loss of the grinding profile results in a loss of grinding efficiency, meaning the pulveriser must work harder to achieve an equal result.
Ultimately a point will be reached in which either a loss of capacity or a loss of fineness will result under uniform conditions. Longer lasting, more consistent grinding elements are crucial to pulveriser operation yielding longer operating campaigns, reduced maintenance and a lower overall invested cost.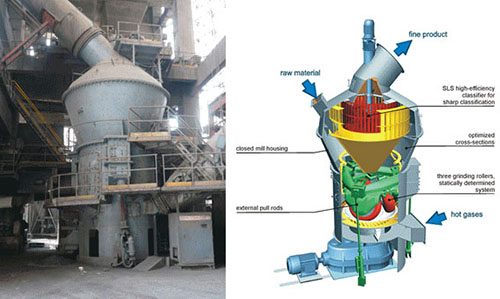 Environmental Friendly
With small vibration, low noise, and the overall sealing, the system works under negative pressure, so there is no dust going out. (It meets the requirements of the state environmental protection.)
High Drying Ability
As the hot air inside contacts directly with the material, drying ability is higher, and it saves energy. By regulating the air temperature, it can meet requirements with different humidity.
Simple and Reliable Operation
Firstly, it is equipped with automatic control systems, so remote control makes it easy to operate. Second, it is equipped with one device, which prevents the roller from contacting with the liner directly, and avoids the destructive impact and severe vibration.
Know the answer to this question? Join the community and register for a free guest account to post a reply.