Cement Plant Operations Handbook Fifth Edition
By David Hargreaves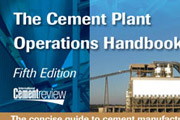 Updated, improved and with additional content, totalling some 300 pages, the new Fifth edition of the cement industry's favourite technical reference book has now been published.
The Cement Plant Operations Handbook (CPOH) is now established as simply the most useful publication available for operational use, reference data, and training and general management usage in almost every cement plant worldwide.
Some 18,000 copies over the past four editions have been presented to International Cement Review's global subscribers, purchased and used extensively as part of various in-house training initiatives by leading cement producers such as Holcim, Lafarge and Cemex, and most recently been given to over 700 students participating in the CemNet training initiatives.
Alternative Way To Get A This Book
Alternatively you can take one of our online training courses. If you pass, you will be sent a copy along with your certificate.