Myanmar: building bridges
Myanmar is in political and economic transition. The changes are opening opportunities and it is an important time for cement producers as competition will increase as cement demand rises. However, the need for industrial development is occurring when personal freedoms, the right to protest and environmental matters have also come to the fore.
Myanmar is making significant strides towards a more democratic society under the direction of President Thein Sein. "The future of Myanmar lies in peace and stability, while economic development is a secondary priority for the country," said Thein Sein in January.
"We are already on the chosen path to democracy and we will continue. We are nurturing the system to have a flourishing democracy in the country."
Having been ruled by a military junta for decades, the task of bringing peace and democracy to the country is huge. The Union of Myanmar is made up of 135 ethnicities of which the main groups are the Kachin, Kayah, Kayin, Chin, Bamar, Mon, Rakhine and Shan.
The total land area is 677,000km2 and Myanmar stretches for 936km from east to west, and 2051km north to south. It is bordered on the north and northeast by China, on the east and southeast by Laos and Thailand, while to the south there is the Andaman Sea and the Bay of Bengal, and to the west is Bangladesh and India (see Figure 1). China and India share a border of more than 3600km with the country, which has an estimated population of around 54m.
The international stage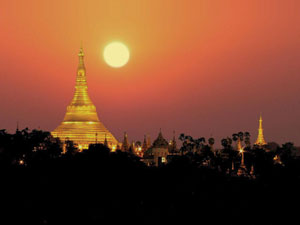 The government is seeking Singapore's expertise in financial management and monetary policy to help transform it into an international trading hub for Southeast Asia. Mr Thein Sein is looking to encourage the US and Europe to lift financial and economic sanctions by winning support from Asian nations as the new, nominally civilian government tries to set the country on a course towards reconciliation and democracy. In short, Myanmar is building bridges with other nations. The Philippines has already agreed to establish a trade investment promotion panel with the first meeting in June and India is set to sign a trade umbrella agreement in May.
Diplomatic ties are also being forged with Malawi and Bhutan, while US Secretary of State Hillary Clinton was received in the new capital of Naypyidaw by Myanmar's president last December in what has been seen as a prelude to the US lifting economic sanctions.
"We welcome every foreign company that visits Myanmar," Mr Hla Maung Shwe, vice president of the Myanmar Chamber of Commerce and Industry, said in January. The end of sanctions would "have a huge impact on our economy," he added.
According to the International Monetary Fund (IMF), Myanmar's GDP is estimated to increase to 5.5 per cent in FY2011-12 and six per cent in FY2012-13. The World Bank is planning to review the country's economy and financial institutions. It reports that Myanmar owes US$11.02bn in external debts, but has foreign reserves of around US$7bn.
Construction projects
One of Myanmar's largest construction projects is the US$56bn Dawei deep-sea port backed by Italian-Thai Development Pcl. As Myanmar's first Special Economic Zone, it will form Southeast Asia's largest industrial complex, including super highways, steel mills, power plants, shipyards, refineries, pulp and paper mills and a petrochemical factory as well as two golf courses and a holiday resort. By the end of 2012, the developers hope to have secured US$8.5bn to finance infrastructure and utilities up to 2014, in the first stage of the build.
The Dawei port will form part of a 'super corridor' of high-speed transport stretching to Vietnam, Cambodia and Thailand. Its shipping facilities will provide access to the Andaman Sea and Indian Ocean. Italian-Thai Development has already completed an access road from the Thai border to Dawei, about 250km west of Bangkok.
Meanwhile, the recent government cancellation of the Thai power coal-fired power plant for the Dawei complex will alarm prospective international investors. "The will of the people" was given as the official reason for the government's decision, but it was also said to be concerned about the plant's environmental impact. It is worth noting that, with 52 per cent of the country covered by forests, Myanmar is known as the 'Forest Kingdom'.
Myanmar was similarly set to build the Myitstone dam across the Irrawaddy River in Kachin state with Chinese investment covering most of the US$3.6bn cost, but under pressure from environmental groups it was cancelled by the government. The dam would have been part of a network of seven to provide power to industry in southern China.
A spectacular project that is likely to happen is the elevated and underground train systems for Yangon. International companies are being sought out for the construction of these rail projects. The city is already the recipient of a new US$100m international airport built by China Harbour Engineering Co Ltd.
China has been keen to invest in Myanmar, but in many ways is viewed locally as a nation more concerned with profiteering than development. By June 2010, 300km of the China-Myanmar oil and gas pipeline, running from Maday Island in southwest Myanmar to Ruili City in Yunnan province in China, had been laid and by 2013 it will be completed.
Even if some of these mega-projects are facing problems, urbanisation is still expected to be encouraged. The population is mainly rural and agriculture contributes about 40 per cent of Myanmar's GDP. In January, Mr Khin Maung Myint, union minister of construction, opened the first Urban Research and Development Institute to assist urban planning and development.
Cement consumption
Domestic cement consumption is approximately 5.35Mta. The Ministry of Industry has the capacity to provide some 0.65Mta and the private and semi-government sector output is around 2.99Mta (see Table 1), leaving a shortfall of around 1.7Mta, which is made up by imports.
To continue reading this story and get access to all News, Articles and Video sections of the CemNet.com website, please Register for a subscription to International Cement Review or Login