Articles published in International Cement Review Magazine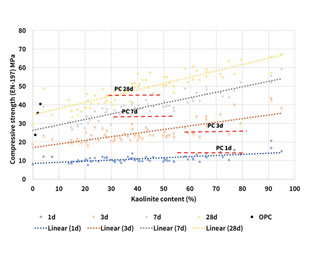 While calcined clays are fast becoming a sustainable alternative to reduce carbon emissions, ensuring the quality of calcined clay cement is key to gaining widespread market acceptance. By Prof Fernando Martirena-Hernandez and Dr Roger Almenares-Reyes, Ecosolutions, Switzerland. Figure 1: database for strength following EN-197 protocol 17 Clays are rock, soil or ore composed fund...
The 64th IEEE-IAS/PCA Cement Industry Technical Conference and Exhibition took place in Las Vegas, Nevada, USA, on 1-5 May 2022. Approximately 800 delegates attended the meeting and ICR was one am...
India's cement industry made a strong comeback in 2021 as the economy started showing a visible post-COVID-19 recovery. The sector posted steep YoY growth of 21 per cent – a level not seen in rece...
When Australia-based development company Mayur Resources discovered 382Mt of high-grade limestone resources adjacent to the ocean just 25km from Papua New Guinea's capital Port Moresby in 2016, it...
Despite an array of carbon reducing technologies currently applied in cement plants around the world, it is becoming increasingly clear in the industry that there is a need for further-reaching ap...
The trend for longer bags in baghouses requires cement plants to review their bag cleaning systems. Gas filtration specialist CTP Team recently installed its advanced SWAP technology at Asia Cemen...
Lehigh Hanson's Mitchell K4 project represents one of the largest and most significant investments in new capacity for parent company HeidelbergCement. As a leading North American cement producer,...
The Honduran cement industry will see a further round of upgrades and expansion as Argos invests US$23m in key projects at its Piedras Azules and Río Blanquito cement plants. In addition to the ex...
Cemex is one of the biggest cement producers worldwide, with leading positions in cement, aggregates and ready-mix. ICR caught up with CEO Fernando A González for a wide-ranging discussion coverin...