Articles published in International Cement Review Magazine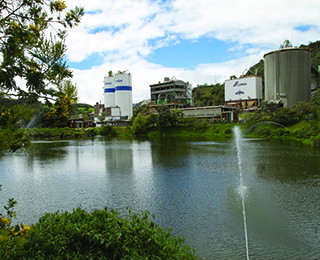 At its Santa Rosa plant in Colombia, CEMEX is harnessing the plant's proximity to suppliers of alternative raw materials and hydropower sources to reduce the clinker factor in its cement and impact positively on carbon reduction targets. By CEMEX, Colombia. Thanks to its strategic location, CEMEX's Santa Rosa plant in Colombia can tap alternative sources of raw materials and energy t...
FICEM Congress, "Green Cement & Concrete 2050", took place in Mexico City on 23-26 May 2022, and brought together 200 industry and government representatives from Latin America and the Caribbean t...
The Scandinavian countries of Denmark, Norway and Sweden are home to ~7.3Mta of cement production capacity. This is at odds with government plans to quicken the pace of decarbonisation in a bloc t...
When Australia-based development company Mayur Resources discovered 382Mt of high-grade limestone resources adjacent to the ocean just 25km from Papua New Guinea's capital Port Moresby in 2016, it...
To reach its net zero target the cement industry will have to accelerate the roll-out of its decarbonisation initiatives, including the thermal efficiency of kilns. The replacement of long ...
More than two years ago Taiheiyo Engineering Corp commercialised technology and equipment for mixing and drying hot meal and sewage sludge with its Taiheiyo Thermal Reactor (TTR®).1,2 A new applic...
A modal shift in the transport of raw materials and finished product alike can bring significant benefits in terms of reducing greenhouse gas emissions for cement producers. CEMEX explains how and...
With the Indian cement market changing rapidly, demand is not only soaring, but the applications for which it is used are changing. Findings from a study by Mission Possible Partnership's Concrete...
Caliza Cemento INKA is active in the Peruvian cement and concrete sector and has been supplying the country's central region with cement since 2007. Now the company is looking forward to bringing ...