Exploring Asian advances
Cemtech Conferences and Exhibitions successfully held its annual event dedicated to Asian cement market developments over 24-27 June 2013 in Jakarta, Indonesia, one of the most active and dynamic cement markets in the region. Kindly supported by the Indonesian cement association (ASI), the meeting attracted over 200 cement professionals with some 30 regional cement companies represented. This report features a snapshot of just some of the highlights of this year's event which included a two-day conference programme, international exhibition, technical workshop and tour of one of the largest cement plants in the world.
With Indonesian cement demand exhibiting one of the most spectacular growth rates in Asia over recent years and its production base continuing to soar to meet further expected increases in consumption, where better to explore recent developments and advances across the wider Asian cement industry than in its capital of Jakarta.
Providing an oasis of peaceful luxury in the heart of the city's business district, the Shangri-La Hotel saw more than 200 senior cement industry specialists from 30 countries convene for three days of thought-provoking discussions anchored around the theme of sustainable production technologies for the Asian cement sector.
Welcome to Indonesia...
Setting the scene, Widodo Santoso, chairman of the ASI, began proceedings by bringing delegates up to speed on the latest developments in the rapidly-evolving Indonesian market. Last year saw Indonesia achieve its second consecutive year of double-digit growth driven by private property projects and the government's commitment to improving infrastructure under the Master Plan for the Acceleration and Expansion of Indonesia's Economic Development (MP3EI). The healthy growth momentum is expected to continue through 2013, albeit at a reduced pace, with the ASI forecasting consumption to rise by 8-9 per cent, providing government projects proceed as planned. With low per capita demand and infrastructure lagging behind that of many other nations, cement demand potential is substantial and expected to reach 72Mt by 2016.
To keep pace with these anticipated gains, most ASI members are investing in new grinding plants or integrated facilities over the 2013-16 period. In addition, some 9Mta of new capacity will be brought on-stream by new market entrants over the same time frame. Once all these plans come to fruition, the ASI estimates that capacity will increase from 57.8Mta in 2012 to 82.6Mta by 2016.
Delivering the keynote address before presiding over the official opening of Cemtech Asia 2013, Panggah Susanto, director general, Manufacturing Industries, Republic of Indonesia, underlined the government's continued support for new cement plants, particularly in areas where the MP3EI is likely to heighten demand."The government will continue to support the implementation of these projects through policies that encourage the flow of investment in the cement industry as well as providing incentives for the construction of cement plants in certain areas, especially in eastern Indonesia," he said.
Mr Susanto noted that reducing the industry's carbon footprint is also high on the agenda. Under the National Action Plan for Reducing Greenhouse Gas Emissions, the domestic cement industry is obliged to target savings of 2.75Mt of CO2 equivalent and energy conservation of 1.04Mt of CO2 equivalent, which it hopes to achieve through the application of state-of-the-art energy-efficient technologies.
Looking at Indonesia's position in a macroeconomic context, Enrico Tanuwidjaja of RBS (Singapore) provided an overview of the regional economic outlook with a specific focus on some of the near-term challenges for Southeast Asia's largest economy. While Indonesia's macroeconomy has been relatively insulated from the global slowdown and is in good shape, growth constraints going forward include insufficient investment and infrastructure bottlenecks. Mr Tanuwidjaja emphasised that there exists room for more fiscal expansion, notably in the infrastructure sector. "We think that now is the real time for investment to add to domestic demand to counter some slowdown already seen in the consumer spending and weak exports," he said.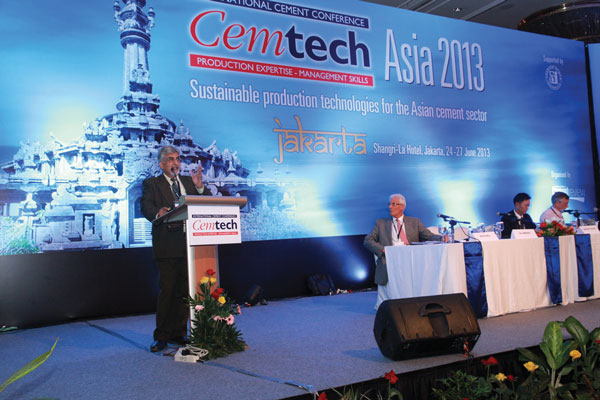 Global and regional market developments
Providing a comprehensive overview of global cement market trends, Yuri Serov of Morgan Stanley (UK) explained why the research house believes there is plenty of scope for consumption growth in the world, albeit at a slower rate than in the past. According to its estimates, the 4bnt level for global cement volumes are likely to be surpassed as early as 2014, although the rate of expansion this year (excluding China) is expected to be slower than in 2012. Among major emerging markets, robust but slower advances are anticipated in Indonesia, Philippines, Russia, Saudi Arabia and Thailand while China's cement consumption is on the way to readjusting to a lower growth path. "Structurally, most emerging markets still have plenty of expansion ahead of them and they will continue to propel global growth," he stated. However, he cautioned that subdued near-term consumption growth means that the global supply-demand balance has not been repaired, causing the imbalance to persist.
Returning to prospects for the regional cement sector, industry consultant and regular Cemtech Asia contributor Martin Wilkes homed in on the evolution of the Asean cement industry, which today represents around five per cent of the global cement market. Here he highlighted continued growth in countries such as Thailand (where cement demand rose by 12 per cent last year, driven by a stronger economy and flood reconstruction activities) and also the Philippines, which has demonstrated moderate increases over recent years. Vietnam, however, is experiencing muted demand expansion and with overcapacity weighing on the local industry, the country is becoming a major exporter to other Southeast Asian countries. In terms of new investments, a number of Malaysian producers are in the midst of creating, or considering, new capacity. Recent indications in Thailand also show that major cement companies are looking to expand again. Furthermore, the Asean markets are now attracting attention from China, India and even Africa as new investors review potential opportunities.
Myanmar is one such country where interest is indeed mounting as the country opens up to the world after 50 years of military rule into a newly-born democracy. In a highly-informative paper, Soe Naing of Kanbawza Industries gave delegates a detailed insight into the prospects and challenges of this new frontier market. Currently there are 14 cement plants and 25 production lines but actual production is approximately 2.5Mt with a utilisation rate of around 80 per cent as individual plants are small and remain uncompetitive. Cement demand, meanwhile, is around 6Mt and with construction activity increasing and the government keen to resume previously halted projects, it is expected to continue its current substantial rise in the coming few years. A number of new and existing players have applied for new licenses to construct, expand or apply for government permission to create new capacity but it is unclear how many will receive the go-ahead. Of the four that are currently being realised, Ngwe Ye Pale Mining Co's 1500tpd dry-process works began operations three months ago, the Kanbawza and Shwe Tuang Co works will be completed by the end of this year but the completion date of the Htoo Co cement project has been pushed back to the end of 2014. Meanwhile, with foreign partners welcome, Pak Link Co has joined forces with Thai major Siam Cement Co, and together they will establish a 5000tpd plant in lower Myanmar. Latest updates indicate that another two cement projects, with capacities of 3000tpd and 5000tpd have also been approved.
Best available technologies and innovations in practice
Bringing to the forefront one of the many new projects designed to boost Indonesia's supply base, Djati Kuntjoro of PT Semen Tonasa talked delegates through the project scope and milestones of the company's new 8000tpd kiln line. Semen Tonasa has invested US$289m in this fifth line at its Pangkajene plant in South Sulawesi, adding 2.5Mta of volumes and bringing total plant capacity to 7Mta. New equipment, supplied by some of Europe's leading technology providers, spanned raw material preparation right through to cement packing and loading facilities. A 2 x 35MW coal-fired power plant also formed part of the project, at a cost of US$123m.
Lafarge India's Haryana blending station was the focus a presentation by Ulrich Hock of the Beumer Group (Germany), whose Indian subsidiary Enexco was commissioned to build a mixing plant "ready to use" for flyash/cement. The blending plant, in which up to 40 per cent flyash is mixed with the cement, is strategically situated in Jhajjar district, some 140km away from the capital New Delhi. The groundbreaking ceremony took place in September 2012 and the whole project had a lead time of nine months.
A presentation by Frank Lichomski of IKN (Germany) discussed the company's latest-generation cooler technology designed to handle capacities of 10,000tpd. Here he highlighted major Asian projects undertaken by the company including three installations for Chinese cement major Anhui Conch (each with capacities of 13,000tpd), a 10,000tpd project at Indocement (Indonesia), two 10,000tpd lines in India as well as projects across the Middle East.
A captivating presentation by Takayuki Suzuki of Taiheiyo Cement explained how operations at the company's Ofunato cement plant were restored in the wake of the Great East Japan Earthquake and the treatment of debris-derived fuel has made a significant contribution to reconstruction of the area (see the full report on p117).
Spanning the entire cement production process, presentations also focussed on the latest technology advances. Developments in the field of grinding were discussed by Gebr Pfeiffer as Caroline Woywadt explained the company's latest experiences with its MVR MultiDrive roller mill. Alstom India focussed specifically on coal grinding technologies for the cement sector, while online analysis for cement grinding optimisation was explored by Axel Pankewitz of Sympatec (Germany). The latest developments in ball mill technology were later brought to the forefront by Joe Khor of Christian Pfeiffer. Further technological advances were detailed Norbert Schockmann and Matthias Hettinger of ThyssenKrupp Resource Technologies who provided details of the company's Polab® software for modern laboratory automation and quality control.
Sustainability initiatives
Dr SK Handoo of the Cement Manufacturers Association of India drew attention to the Low-Carbon Technology Roadmap for the Indian cement sector as he explained how the world's second-largest cement-producing nation plans to reach its targets to improve energy efficiency and reduce CO2 emissions by 2050, thereby laying the foundation for low-carbon growth in the years beyond. Key levers to reduce emissions by the industry are increasing rates of blending, leading to a reduction in the clinker-to-cement ratio, increased use of alternative fuels, widespread implementation of waste heat recovery systems and a radical step change in new technology development to bring potential technologies from R&D to deployment. The technologies, policy framework and investment outlined in the roadmap could reduce CO2 intensity in the Indian cement industry by about 45 per cent by 2015 from the 2010 level.
Anil Singewar of ACC Ltd (India) presented a framework for performance improvement, which has successfully been executed across the group's Indian facilities with remarkable success, allowing it to reduce electrical energy costs by 7kWh/t in just two years.
In a presentation entitled 'Pioneering ways of managing biodiversity in limestone quarries', Tony Whitten of Fauna & Flora International (UK) asked whether cement companies should do more to prevent global extinctions. With many quarries likely to hold unique, highly range-restricted and unprotected species, he identified new ways in which the industry can move forward and improve its sustainable quarry management practices.
Current status and future trends for waste heat recovery power plants in India was explored by Sapath Gupta of HIQ Power Associates Pvt Ltd (India) who discussed the available potential in the industry.
Alternative fuels usage by the Asian cement industry has become an increasingly important part of strategies by cement producers to lower usage of non-renewable fuels and resolve recycling and waste production issues. Under this theme came a series of presentations to help generate further environmental benefits from the use of waste in the production process. In a joint paper, Tom Lowes of Cinar (UK) explained how to maximise output and minimise emissions while using alternative fuel and raw materials, while John Jones, Geocycle Asia (Singapore), the waste management brand of Holcim, addressed the health and safety implications associated with AF usage for cement producers. In terms of technological developments in this field, a presentation by BMH Technology on its Tyrannosaurus® process demonstrated an effective system for turning waste into high-quality SRF.
Focussing further on pyroprocessing technologies, a presentation on denitration technology for cement plants was delivered by Kawasaki Heavy Industries (Japan) while Chemtrols presented a case study on the replacement of air dilution systems with gas cooling in top cyclones.
Trading trends
A session focussing on trading developments saw Ad Ligthart of Cement Distribution Consultants (The Netherlands) explain domestic seaborne distribution systems in Asia. He looked at the economic factors behind seaborne distribution systems and their logistical aspects. Under this umbrella also came presentations on terminal concepts by Claudius Peters Projects referencing specific projects undertaken in Indonesia, notably for Semen Indonesia, Tonasa and Bosowa, as well as a project in Singapore at the Jurong Port. IBAU Hamburg closed conference proceedings with a focus on what's important when selecting a self-discharging cement carrier and the solutions it can offer.
Extended programme
On the final day of proceedings, a tour of Indocement's vast Citeureup cement plant proved extremely popular (see box story). Meanwhile, an expert tutorial on blended cements, led by Dr Michael Clark, International Cement Review's Technical Consultant, also generated a great deal of interest. With the reduction of clinker levels becoming a key strategic aim for producers worldwide, this half-day workshop helped plant managers, process engineers and other technical personnel in attendance explore how to get the best from their blended-cement strategies.
Citeureup plant tour (Indocement)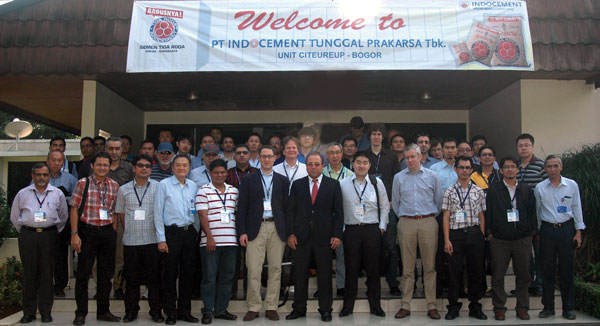 This year, Cemtech Asia delegates were able to tour one of the largest cement plants in the world. A group of 45 Cemtech delegates drove through Jakarta's busy early morning traffic to the great Citeureup plant operated by PT Indocement Tunggal Prakarsa (part of HeidelbergCement) and located at Bogor, some 45km south of Jakarta.
Delegates were warmly greeted by Setia Wijaya, general manager (Operations) of the factory, and Hasan Imer, technical director of Indocement. After a presentation by plant staff and refreshments, delegates were led through the Jatropha plantations, which provide biomass fuel for the plant, to a vast quarry that delivers some 60,000tpd limestone to the plant via a 6.5km belt conveyor.
A tour of Citeureup's nine production lines, power plant and bagging factory was concluded by a visit to the control room and laboratories. The immense scale of the factory complex is about to increase with the addition of a grinding line and 10,000tpd kiln, taking total cement capacity to 18Mta. (See ICR July 2013 for the full plant report.)
Networking opportunities
Opportunities for delegates to network and share experiences and know-how were plentiful and mainly centred around the bustling international exhibition area which featured some of the industry's leading equipment and service providers.
A more relaxed backdrop for discussions was offered in the form of lunches and evening receptions. Proceedings were rounded off in true Cemtech style with a Gala Dinner filled with colour and flair as delegates were treated to entertainment highlighting the diversity and heritage of Indonesian culture.
With another Asian conference successfully concluded, Cemtech looks forward to returning to the region in 2014.
For now, our attention turns to Cemtech Europe from 29 September to 2 October 2013 and with an equally informative and packed agenda planned, we hope to see you there!
Article first published in International Cement Review, August 2013.