The start of Cemtech's 25th anniversary celebrations
Cemtech Middle East & Africa 2016 welcomed nearly 300 delegates from 35 countries to its annual meeting in Dubai, a record attendance for this regional event and an auspicious start to Cemtech's 25th anniversary year.
This year sees Cemtech conferences celebrate 25 successful years and there could have been no better venue to commence this important year than the Grand Hyatt Dubai, the setting for the annual Middle East & Africa (MEA) event. As always, the meeting was packed full of contributions from leading industry figures, an array of technical papers, 30-stand equipment exhibition, plant tour to National Cement in Dubai and a spectacular Gala Dinner.
Welcoming delegates, conference organiser Thomas Armstrong highlighted the achievements of Cemtech over the last two-and-a-half decades, which has hosted several thousand participants across Asia, Africa, the Middle East, Europe and the Americas since the first meeting held in Prague in 1991.
In the Middle East, Cemtech conferences have flourished as an important meeting place and source of technical and market knowledge for the regional industry, benefitting from strong support from key industry figures. Special thanks were reserved for his Excellency Sheikh Yasir Al Qassemi, general manager of Union Cement Company and chairman of the UAE Cement Producers' Association, as well as for Ahmad Al Rousan, secretary general of the Arab Union for Cement and Building Materials, both consistent supporters and contributors to the success of Cemtech meetings over the years.
East v West divide
Opening the first morning of presentations, John Fraser-Andrews, who leads the Building Materials & Construction team at HSBC Bank (UK), provided an insightful overview of the current and future outlook for world cement markets over the next three years. The developed market, led by the US and to a lesser extent Europe, is enjoying a recovery in volumes, while the fall in energy prices is providing a welcome tailwind for producers, with an expected EBITDA upside of nearly 50 per cent by 2018 in the US and 35 per cent in Europe.
On the other hand, the emerging markets (EM) are experiencing a weakening in demand due to low commodity prices and a delayed reaction to the global financial crisis. Consequently, EM growth is forecast to see a sub-two per cent volume expansion over the next three years to 2018. Moreover, with high levels of capacity, utilisation rates are undermining cement prices in many countries.
Dangote: African self-sufficiency
The keynote presentation was delivered by Onne van der Weijde, CEO of Dangote Cement, Nigeria's largest cement producer and an emerging major with 45Mta of capacity in sub-Saharan Africa. His presentation, entitled 'Building a self-sufficient cement industry in Africa', presented a bullish case for African cement demand over the medium- to long term. As Africa's most dynamic cement company, Dangote is now forging ahead with a new wave of capacity expansions planned for Senegal, Kenya and Ethiopia. According to Mr Van der Weijde, Dangote is now on track to achieve 76.5Mta of cement capacity in 14 countries by 2020, representing 24 per cent of Africa's cement capacity, up from 18 per cent in 2015. For ICR's in-depth interview with Mr Van der Weijde, see p34.
Markets in focus
Adib El Hachem, Cimenterie Nationale, Lebanon, provided a timely review of the cement markets of Lebanon, Syria and Iraq, all of which have seen volumes hard hit by the ongoing conflict in the region. In Lebanon demand declined by 0.5Mta in 2015 to 5Mta, with further falls expected for as long as the regional crisis continues.
In Syria demand was estimated at 1.85Mt in 2015, largely supplied by imports from Turkey due to the almost complete closure of the domestic industry. Exports from Lebanon to Syria have been banned almost continuously since 2013. As for Iraq, consumption has remained depressed due to the conflict, and is estimated at around 15-20Mta, half of which is supplied by the local production base and the balance by imports from Turkey and Iran.
The last few years have seen Iran's arrival on the scene as a major cement and clinker export power (see p106 for full article). According to Hamid Reza Tajik, a consultant to Fars & Khuzestan, in 2014 total export volumes amounted to 18.9Mt. Volumes declined in 2015 as exports to Iraq fell, but the country remains a competitive exporter given its low energy prices and surplus of capacity – Iran hopes to add a further 20Mta by 2018.
Returning to Cemtech, Ifran Amanullah, Attock Cement, presented a detailed analysis of the Pakistan cement sector, where capacity has now reached 45.6Mta against domestic sales of 28.21Mta in 2015. Demand in the company's home market is growing strongly and will be boosted going forward by the China-Pakistan Economic Corridor and associated investments. Pakistan's producers rely on export sales which amount to around 8Mta, with product delivered primarily to Afghanistan, followed by the Indian sub-continent and throughout the east coast of sub-Saharan Africa. Pakistan is now primed to expand capacity by a further 7.5Mta over the coming three years, including a new 1.2Mta line by Attock Cement itself.
Francis Mwangi of Standard Investment Bank (Kenya) presented a review of east African cement markets, notably Kenya, Uganda and Tanzania, where the CAGR of cement consumption over the last decade has been in excess of 10 per cent.
Bordering Tanzania, Rwanda is another high-growth African nation, having achieved a CAGR of 15.6 per cent over the 2002-14 period, with demand now reaching 0.85Mt. Busisiwe Legodi, CEO of Cimerwa, the Rwandan subsidiary of PPC (South Africa), described the company's wet-to-dry line conversion, which saw kiln capacity expand from 0.1Mta to 0.6Mta following the August 2015 commissioning.
Over in west Africa, Yusuf Binji, executive director of BUA Group, Nigeria, outlined capacity developments in his country, including the commissioning of BUA's 3Mta Obu Cement plant, where a second 3Mta line is planned for 2018.
Technical highlights
Thirty-five years of evolution at Yanbu Cement Company (YCC) was a technical highlight at Cemtech MEA in a presentation delivered by Dr Ahmed Zugail, CEO, and Kalyan Bose, plant manager. Established in 1977, 70km northwest of the Port of Yanbu, the company has continually modernised its operations, and now has 7.2Mta and 9Mta of clinker and cement capacity, respectively, across five KHD-supplied production lines. YCC's operations include a 165MW power plant, a desalination plant and paper sack factory. The latest investment, now in progress, is a 34.25MW waste heat recovery unit, which will be the largest example of its kind worldwide. The system will use steam Rankine cycle technology, chosen because it is a proven technology and relatively low cost at US$1.8m/MW, compared to the organic Rankine cycle alternative. In total the system will reduce YCC's annual CO2 emissions by 105,000t.
Rabi Das Gupta, ETA Star International LLC (UAE), discussed approaches to EPC plant construction and the opportunity to save up to 20 per cent of investment costs on projects. He identified the design of the project as the most crucial phase where costs should never be compromised.
Cemtech Technical Workshop
A dedicated three-day Cemtech Technical Workshop was held alongside the main conference under the theme of 'The Progressive Levels of Optimisation.'

Led by Dr Michael Clark, Whitehopleman (UK), the course addressed practical techniques for maximising plant productivity and efficiency, beginning with the raw materials and their preparation and moving on to fuels for firing a cement kiln and the ventilation of exhaust gases from the process. Participants also received a certificate of completion, as well as a complimentary copy of ICR's 'Cement Plant Operations Handbook'.
Saumen Karkun, Holtec Consulting (India), proposed remote monitoring of limestone quarries as a new opportunity for saving resources and improving the plant process. By relaying operational data from the quarry after blasting without delay to a remote expert for analysis, new insights can be used immediately to update the plant's block model, improving efficiency and ensuring over-consumption of resources is avoided.
Bringing the first day to a close, Fernando Duenas Pozo, Cemengal (Spain), reviewed recent grinding plant construction case studies, drawing on the company's innovative, small-scale Plug&Grind mills all the way up to the large-scale 1.1Mta grinding plant for Cement Australia at Port Kembla. Each project, regardless of size, was able to achieve significant erection cost savings – of up to 80 per cent – due to the prefabricated modular construction system, which can save time on transport and installation: engineering at its best.
On the second day of the conference, delegates enjoyed a broad range of technical presentations as topics continued to move through all areas of the cement manufacturing process.
Michael Suppaner, A TEC Production & Services (Austria), addressed the needs of cement producers seeking to invest in alternative fuels systems, whether just starting out or for those targeting ultra-high levels over 90 per cent. A variety of fuels from municipal solid waste and refuse-derived fuels to hazardous waste were reviewed, as were injection points for each fuel, including the riser duct and main burner, plus bypass systems for the removal of chlorides and sulphur. In the same presentation, Wolfgang Kremsl of Saubermacher (Austria) addressed the situation in the UAE, where AF rates remain below five per cent. The company has supplied AF to Austrian plants for 15 years and now offers the same in the UAE and Oman.
Bringing theory into practice, Stelios Sycopetrides and Dr Iacovos Skourides presented a case study from Vassiliko Cement (Cyprus), recounting experiences in AF utilisation at their plant, which is now targeting over 30 per cent TSR. The plant has explored various systems for preblending and dosing. One innovation was the co-grinding of petcoke with dried sewage sludge and meat and bone meal (MBM) in a mill to increase AF rates.
Michael Olsen of FLSmidth (Kenya) reviewed approaches to lowering the environmental footprint of cement plants. He highlighted the pressure on resources caused by cement production and how sustainable management of raw material consumption, energy use and emissions technologies will be critical to producers in the long term. Many of the best technologies are now in place in ACC Ramliya's plant in Egypt, where FLSmidth has built and now operates one of its key reference facilities.
Dr Suchismita Bhattacharya of Ercom Engineers Pvt (India) discussed emissions reduction through kiln optimisation and control techniques. NOx removal using staged combustion and a low NOx burner was compared with selective catalytic reduction (SCR) and selective non-catalytic reduction (SNCR).
Harpreet Singh, Hasle Refractories (Denmark), explored how precast refractories are especially suited to areas where high levels of sulphur and alkalis, resulting from alternative fuel utilisation, can result in problematic coating or blocking. Examples were given of projects at Riyadh Cement (Saudi Arabia) and Fujairah Cement (UAE).
Eduardo Matos, Magnesita (Brazil), delivered a convincing argument for adopting the company's new service model for refractories, which offers opportunities for working capital reduction, inventory planning, performance analysis and improvement in one convenient package.
Kevin Venter, Sila (Australia), presented a super-reinforced ceramic composite material, used in engineered components and consisting of up to 30 per cent steel and 70 per cent ceramic materials. Such components are ideal for replacing conventional refractories in certain applications, notably the kiln nose ring, where there is high mechanical stress or thermal shock.
Thomas Wyen, Ecospray Technologies (Italy), reviewed high-temperature filtration systems using ceramic elements as an alternative to conventional bags, illustrated by the key reference of Italcementi's Rezzato plant in Italy. The system requires no water injection and offers 10 per cent reduction in investment cost and up to 30 per cent saving for power consumption.
A "Who's Who' of suppliers
Delegates were able to benefit from many scheduled networking events in the adjacent technical exhibition area, which this year featured a 'Who's Who' of cement plant equipment suppliers.
Collectively, all aspects of equipment supply were represented, from turnkey suppliers such as Fives Group (France) to crushing and grinding specialists Hazemag & EPR (Germany) and Gebr Pfeiffer (Germany) and onto alternative fuel systems by Walter Materials Handling/ATS Group (France), refractory specialists Magnesita, bulk material handling leaders such as Beumer (Germany) and Gambarotta (Italy) plus everything in-between.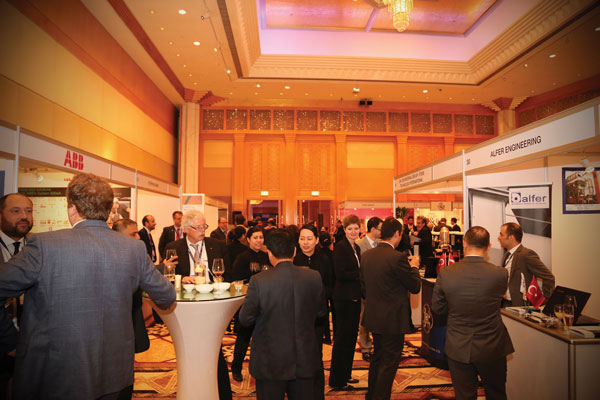 Behrooz Zandi, Shargh White Cement Co, provided an overview of the company's conversion of a previous 1200tpd grey clinker line to produce 1000tpd white clinker, completed in 2014. To achieve this the kiln was reduced in length from 90m to 72m, a high-efficiency rotary cooler was installed and the existing two-chamber ball mill was upgraded with a new separator.
Thomas Fahrland, Loesche (Germany), discussed drive selection for vertical roller mills, where options for producers have multiplied in recent years. The latest offering from Loesche features the COPE drive by Renk, a new 10MW drive with active redundancy, especially suited to large Loesche VRMs.
Ramzi Akkawi introduced ABB's (Switzerland) remote diagnostic services, which allow a variety of processes to be fixed or optimised remotely. Recent success stories include emergencies such as the restoration of a plant control system server and the rectification of an ID fan drive fault, as well as ongoing kiln optimisation and tuning.
Mogens Fons, Fons Technology International (Turkey), introduced the Delta Cooler, a unique cooler concept that is as well suited to retrofits as it is to new plants. The workshop-assembled, modular construction minimises erection time while the design reduces the building height required for the cooler. In operation, the cooler offers lower energy consumption and ultra-low wear for minimum maintenance.
The retrofit of a double-strand central chain bucket elevator with a heavy-duty belt bucket elevator at Yamama Cement, Saudi Arabia, was the subject of Bilal Jabboul's presentation for the Beumer Group (Germany). The new system offers higher availability and more economical vertical clinker transport.
Thomas Bergmans, INFORM (Germany), examined solutions for managing cement truck fleet logistics, taking delegates through the savings and productivity increases that can be achieved by using advance optimisation software.
Extended technical programme
The plant tour this year visited National Cement. Established in Dubai in 1978, the 1.5Mta plant is owned by the Al Ghurair family and is equipped with a 4000tpd two-pier Rotax kiln with inline calciner and Cross-Bar clinker cooler, both by FLSmidth (Denmark). In 2016 the plant will install a 5.7MW waste heat recovery system by Sinoma Energy Conservation Ltd, plus a Geoscan online elemental analyser for the raw meal mix, ensuring the plant remains efficient and future proof.
Commencing 25th anniversary celebrations in style
Cemtech MEA in Dubai marked the first Cemtech meeting in the conference series' 25th anniversary year. The occasion was celebrated in style during an exceptional Gala Dinner for over 300 guests, including dancing, music and a magic show, all set against the backdrop of the fantastic Grand Hyatt Dubai. Cemtech looks forward to returning to the MEA region in 2017.
Article first published in International Cement Review, April 2016.