Cemtech Asia and the Philippine growth trail
Cemtech Asia's seventh conference and exhibition, which took place in Manila, Philippines, between 19-22 June, provided an exceptional opportunity to take stock of the industry's progress in one of the world's fastest-growing regions. Ernesto M Ordoñez, president of the Cement Manufacturers' Association of the Philippines (CeMAP), delivered the keynote address, using the opportunity to highlight the country's upward momentum in cement consumption.
Ernesto M Ordoñez spoke of his recent meeting with incoming president Rodrigo Duterte, in which the latter had stated that he was committed to maintaining and expanding investment in Filipino infrastructure. Investment in public works would continue to play a major role in the national budget, Mr Ordoñez pledged, with cement consumption growing by 12 per cent in the first quarter of 2016, buoyed by increased government spending.
However, challenges remained: firstly, power supply to producers could be unreliable and prices were 50-200 per cent higher than in neighbouring countries. Secondly, there was the difficulty of supplying bagged cement to a country of over 7000 islands, many of which lacked modern port facilities. Finally, Mr Ordoñez expounded on the need to combat the smuggling of substandard cement from abroad.
Nestor Arcansalin, director of Resource-Based Industries at the Filipino Department of Trade and Industry, continued the positive focus by noting that construction output had risen by 10.8 per cent YoY in 1Q16.
While sluggish global growth had dragged down exports of goods, fixed capital formation rose by 26 per cent in the last quarter, helping to explain the increase in cement consumption. Mr Arcansalin also highlighted the efforts the Filipino cement sector was making to reduce greenhouse gas emissions. He stated that an increased use of blended cements was reducing the need for clinker and thus helping to cut overall carbon output.
Market overviews and forecasts
The conference focus then shifted to provide a wider view. David Bowers, International Cement Review economist, presented a forecast of global cement consumption growth from 2016 to 2018. The projection – based on in-house macro-economic modelling – envisaged that global demand would grow by around 1.5 per cent annually, with some regions – notably west Africa and southeast Asia – performing substantially better than this average.
Further speakers presented in-depth market profiles of Vietnam, Korea and Myanmar. Lan Nguyen of StoxPlus Corporation spoke of the forces driving consolidation within the cement industry in Vietnam. Ms Nguyen noted that the Vietnamese industry was highly fragmented and most of its 62 firms only have control over a single small plant. Average utilisation rates were 50-60 per cent, she said, making consolidation "a must".
To facilitate this, she explained that the government was prepared to allow firms to be sold at a loss. In the 1Q16 cement plants operated by Viettel and the Housing and Urban Development Corporation had already been transferred to Vicem, ahead of a sell-off of a minority interest.
In his overview of Korean cement markets, Jae Young Kim of Tallship Trading predicted that consumption would peak next year, then decline thereafter. While exports held out some promise, Mr Kim noted that – at 9Mta – they were by now close to their economic limit.
With domestic consumption slowing and exports near capacity, Mr Kim said that firms needed to concentrate on improving profitability. This process had already begun, with a round of sell-offs and consolidation having taken place. Further pressure would come from the introduction of an emissions trading system, which would begin operation in earnest from 2017, Mr Kim added.
Speaking on the state of the cement industry in Myanmar, Soe Naing of KBZ Industries painted a picture of a sector that had hitherto been insulated from foreign competition. Cement plants, he explained, had historically sold direct to the government and were thus inexperienced at marketing their product. Meanwhile, imports were similarly state-controlled.
This would change as Myanmar democratised, Mr Naing said. To develop the economy and improve existing infrastructure, per capita cement consumption would need to rise above its present level of only 138kg.
Doing more with less
Peter Hoddinott – until recently chief executive of Lafarge Africa – spoke to methods of improving the sector's capital efficiency. Cement had a much higher capital/turnover ratio than other industries, he said, stating that the impact of recession-induced cutbacks had shown that firms were spending too much on sustaining their operations.
Mr Hoddinott observed that since 2007, sustaining capex had fallen by 80 per cent. While it had been feared that this would lead to a decline in reliability, in fact there had been no noticeable impact and sold-out plants saw performance improve.
Sustainability and the environment
Jim O'Brien of CSR Consulting presented the findings of his research on global leadership in sustainability performance. Basing his analysis on the sustainability reports of 20 major producers, Mr O'Brien said that there had been improvements on nearly every metric, with the use of both alternative fuels and materials rising. Thermal efficiency was improving steadily, all while CO2 emissions per tonne fell 'dramatically'. Other environmental impacts, such as water use, biodiversity protection and health and safety, also demonstrated encouraging trends.
To illustrate the improvements made to sustainability, Cemex executive Ernesto Felix spoke of the work his company had carried out to reduce carbon emissions in the Philippines. Mr Felix stated that Cemex had achieved a level of 680kg CO2/t of cement produced, bringing CO2 output down by 0.5Mta compared to 1990 levels.
On a similar note, Luc Reibel of Walter Materials Handling and Dominador Reyes of Holcim Philippines spoke of how Holcim's Lugait plant had been upgraded to utilise rice husks as an alternative fuel.
The conference also heard from ABB's Andrew Wilson on energy-efficient technologies, Tahir Abbas of Cinar on developing a cost-effective fuel switching capability and Beumer's Macario Yap on the use of AF at Aalborg Portland Cement, Denmark. Andreas Renetzeder of Scheuch gave a presentation on the innovative SCR technologies for NOx, VOC, CO and odour reduction.
Technical highlights
Dr Hans-Wilhelm Meyer of Cemcon spoke of the opportunities presented by the use of alternative raw materials, particularly in small markets such as those found on the islands of the Philippines or Indonesia. Dr Meyer argued that the key to serving such markets was to employ small mobile grinding units and to make use of locally-available natural additives.
This approach was endorsed by Cemengal's Moises Nuñez, who gave a presentation on the Plug and Grind solutions offered by his company. Phillip Hempel of Gebr Pfeiffer also used the end of his presentation on MultiDrive mills to highlight his firm's development of a new small-scale modular grinding unit.
International equipment exhibition
The Cemtech equipment exhibition held alongside the conference provided a forum for delegates to meet and interact with leading technology providers, including: ASEC Automation, Cemengal, Dal Engineering Group/Fons Technology International, Fives Group, Howden Group, Christian Pfeiffer, Billerudkorsnäs, CNBM Engineering/CNBM Smart, Hangzhou Hota M&E Industry, Maize & Blue, Sika, Geometrica Inc, Fritz & Macziol, Köppern, Unicast Inc, Inform GmbH, Beumer Group, CBMI, Walter Materials Handling/ATS Group, Standard Industrie, Tongda Refractory Technologies, ANIVI, Bedeschi SpA/CTP Team, ABB, FLSmidth Pfister, Venti Oelde, Gebr Pfeiffer, Redecam, Mondi, Endress+Hauser II AG, Schenck Process, Scantech International and Scheuch GmbH.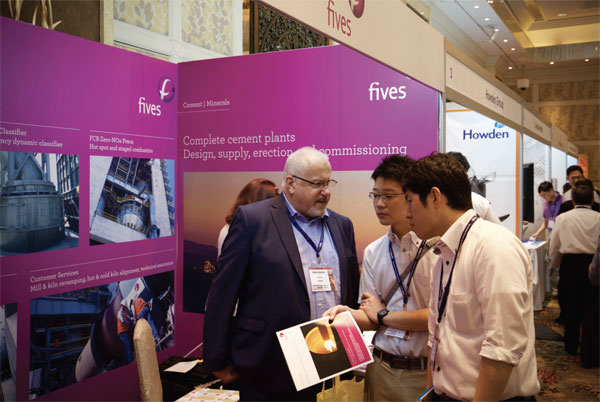 Dr Joe Khor of CPB Engineering examined cement grinding systems, noting that the process was inherently inefficient and energy intensive. He made the case for ball mills on account of their reliability and flexibility, stating that they offered lower upfront costs and high-quality outputs.
Giving the conference the benefit of his company's experience in the use of large clinker coolers in Asian markets, Justus von Wedel of IKN spoke of the lessons learned in installing and operating such equipment.
Additional presentations covered a wide range of subjects including bulk loading operations (Bedeschi), truck dispatch automation (Fritz & Macziol), grinding systems and cement composition optimisation (Chryso) and the Fons Delta Cooler (Fons International).
Article first published in International Cement Review, August 2016.