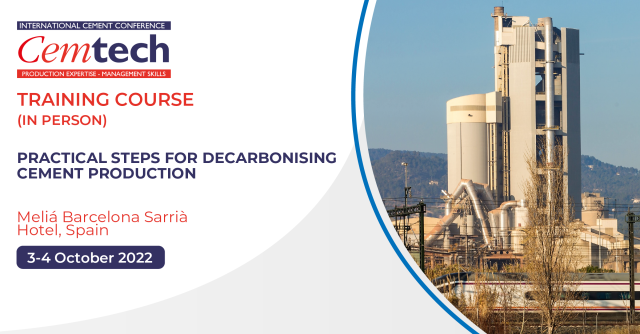 Practical steps for decarbonising cement production
Cemtech presents a two-day in-person training course on the practical steps for decarbonising the cement production process, held at the Meliá Barcelona Sarrià on 3 and 4 October 2022.
This training course will be held alongside the main Cemtech Europe 2022 Conference & Exhibition – but requires registration and payment of separate course fees (see right).
Training course description
This two-day training course will cover the practical steps for decarbonisation that can be implemented in cement factories across Europe and the world.
The main levers for decarbonisation of cement manufacture are well known: (i) improve energy efficiency, (ii) substitute fuels with less carbon intensive fuels, (iii) reduce the clinker content of cement and (iv) deploy carbon capture, utilisation and storage (CCUS).
Knowledge of the theory of cement industry decarbonisation alone is not sufficient. The purpose of this training course is to go beyond the theory and address the practical challenges of implementing carbon reduction measures in the cement plant.
This training course will be led by two of the industry's top cement manufacturing experts, Dr Michael Clark and Dirk Lechtenburg (see course leader biographies). The course will share share actionable insights and real-life examples of measures that can be taken to reduce carbon emissions from cement manufacturing, including:
How to improve energy efficiency, illustrated by a recent case study from Kazakhstan.
Steps towards 100% fuel substitution, with reference to the alternative fuel platforms developed for cement companies in Germany, Saudi Arabia and India.
Clinker content reduction, including enhanced grinding technologies, blended cements and calcined clay.
Review of CCUS technologies and practical steps that can be taken now to conduct capture readiness audits, which require knowledge of the different options for carbon capture, storage and use.
Course format
The training course will consist of two full days of lectures provided by the course leaders. Lectures are supported by Excel-based exercises to illustrate and reinforce learning topics.
The training course is suitable for both technical and managerial staff of cement companies, as well as for those involved in the development of low-carbon strategies for cement companies.
Participants will receive a certificate upon completion of the training course, in addition to a copy of The Cement Plant Environmental Handbook, Third Edition, published by International Cement Review.
Outline Training Course Programme
Monday, 3 October 2022 – 08.30 - 17.00

The imperative of decarbonisation
Segmenting the CO2 and practical steps to decarbonisation
Improved energy efficiency
Kiln technologies for alternative fuels
Fuel switching
Steps towards 100% fuel substitution
Process and product quality impacts of alternative fuels
Case studies from Germany, Saudi Arabia and India
Alternative raw materials
Synergies between alternative fuels and raw materials
Tuesday, 4 October 2022 – 08.30 - 17.00
Reducing the clinker content of cement


Calcined clay cements

Scope 2 emissions, waste heat recovery and renewables

Alternative fuels beyond the cement kiln

Integrating alternative fuels into the cement factory

Carbon capture technologies

Carbon transport, storage and capture readiness

Carbon utilisation

Clinker mineralisation

Venue and accommodation

The training course will take place at the Meliá Barcelona Sarrià hotel in Barcelona, Spain. Upon registration, a special discounted room rate of EUR163 will be available for those wishing to stay in the hotel during the course. For other hotel recommendations at different budget levels, please contact the organisers.
For more information on Cemtech Europe 2022, visit:
www.Cemtech.com/Barcelona2022