The end of the holiday season in various parts of the world provided the freight market with a varied mix of price trends.
In the Handysize market prices appeared to be stabilising somewhat in both basins but with Pacific rates recovering slightly faster. RV Atlantic contracts rose from US$7700/day on 22 August to US$7900/day a week later but then lost modest ground to US$7825/day, according to Fearnleys Research. Meanwhile, its Pacific counterpart made steady gains, rising from US$6100/day to US$7600/day over the two-week period. TCT Cont/Far East trips, however, saw their prices develop in the opposite direction, decreasing from US$18,400/day to US$16,000/day.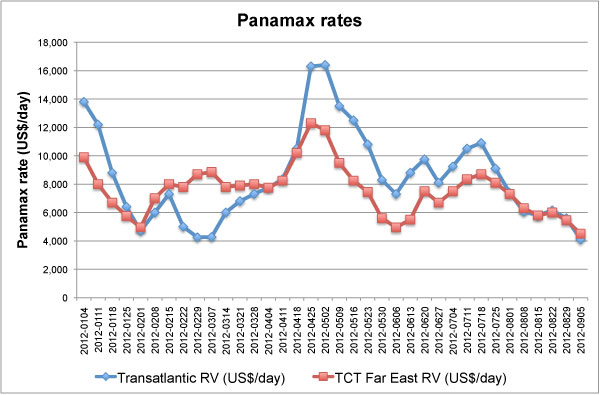 After a brief period of stabilisation in the week ended 22 August, customers saw prices in the Panamax market trend more in their favour as business was slow. The transatlantic RV contract first noted a six per cent rise from US$5800/day on 15 August to US$6150/day a week later, but then was cut to US$4100/day by 5 September as vessels outnumbered cargoes by some margin. TCT Far East RV contracts, while making lower initial gains to US$6000/day, registered a smaller but still considerable fall to US$4500/day.
Capesize rates remained largely stable and even booked modest gains. TCT Cont/Far East prices advanced from US$18,270 on 22 August to US$19,725 two weeks later and the Richards Bay/Rotterdam route saw its tonnage price edge upward from US$6.00/t to US$6.10/t over the period. Colombian coal and Brazil-China iron trade helped to push up rates.
The Baltic Dry Index spent the two weeks from 22 August until 5 September bumping along the 700 mark, moving closer to the February low of 662 as it fell to 684 at the end of the period.
Published under
Cement News