Cement News from International Cement Review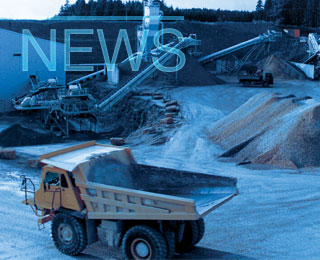 Brazilian cement sales surged 26.5 per cent YoY to 5.3Mt in April, according to the domestic cement association, SNIC. Domestic sales Sales within Brazil saw a 25.8 per cent uptick to 5.219Mt in April 2021 from 4.148Mt in the equivalent period of 2020. The volume of cement sales per working day increased 8.2 per cent MoM and 25.8 per cent YoY to 237,200t. However, the considerable rise is ...
Cement dispatches from Peru in April surged to 0.985Mt in April 2021 from a low base of 0.011Mt in April 2020 when the country was affected by the COVID-19 pandemic, according to the country's cement association, Asocem. When compared with April 2019, dispatches were up by 16 per cent. Cement production from domestic cement plants advanced to 0.973Mt in April 2021 from 0.010Mt in April 2020....
CEMAP data showed imports were growing by an average of 6-7 per cent annually. In 2020 approximately 500t of cement arrived from Vietnam, which emerged as the biggest cement exporter in southeast Asia. Vietnam cement accounted for nearly 90 per cent of total imports, CEMAP said. Meanwhile, many cement manufacturers in the Philippines are pushing for an end to cement imports, citing increase...
The Port of Malaga, Spain, expects to move around 50,000t of clinker and cement this week.  From 22 March, the Nordanhav is loading 9500t of cement at Pier 6 by Financiera y Minera and Opemar. The Ultra Passion will be adding 40,000t of clinker at Pier 7 as of 25 March.
Taiwan Cement has reported a 11.3 per cent rise in revenue to TWD22.04bn (US$789.3m) for the first quarter of 2021, while its net income advanced 10.6 per cent YoY to TWD3.32bn on the back of profit growth in Taiwan and Europe's cement businesses. Despite weak sales prices in the mainland China cement business in the 1Q21, sales prices have been increasing steadily since April. In Taiwan's ce...
Lafarge Canada Inc has participated in three Edmonton City initiatives, d emonstrating how local community and businesses can underpin an energy transition. The three initiatives are:  Corporate Climate Leaders, Building Energy Retrofit Accelerator Rebate, and Energy Benchmarking. As a part of the endeavour, Lafarge measured the energy consumption (natural gas and electricity) of its partici...
Märker Zement GmbH has  commissioned Beumer Group with the supply of an alternative fuel single-source solution to convey and store different materials efficiently. This is Beumer's largest order in this business segment to date. The order includes processing equipment from the reception and unloading of the trucks, up to the storing, conveying and feeding process of solid alternative fu...