Cement News from International Cement Review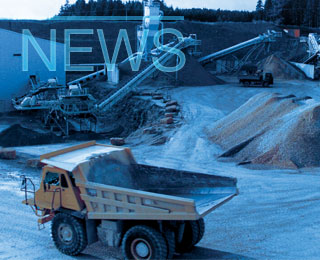 Portland and blended cement shipments, including imports, in the USA and Puerto Rico, saw a 19 per cent YoY increase to 9.7Mt in April 2021, according to the US Geological Survey (USGS). The leading cement-consuming states were Texas, California, Florida, Georgia and Ohio, who accounted for a combined share of 40 per cent of total shipments. The leading producing states were Missouri, Texas, C...
The Senegalese cement market expanded by 158.7 per cent in April 2021, according to the Agence Nationale de la Statistique et de la Demographie. However, domestic output declined by 9.9 per cent while export sales slipped by 3.5 per cent YoY in April 2021.
Kazakhstan has lifted the restriction on cement imports from third countries, Trend reports. As a result, cement clinkers, Portland cement, alumina and hydraulic cements are allowed to be imported into the country. The lifting is expected to benefit the demand in the western regions and reduce the price of cement in Kazakhstan. The ban was introduced on 30 April 2021 by the Ministry of I...
Dutch shipbuilder Royal Bodewes has received an order to build two more cement carriers for Cyprus-based Eureka Shipping, according to MarineLink. The two newbuilds will be the fourth and fifth in a series of vessels for Eureka, a joint venture between SMT Cement Ships and the CSL Group. The self-discharging carriers will be sisters to Aalborg White, ordered in 2017 and delivered in 2019.
GCC saw its consolidated net sales increased 18.1 per cent YoY to US$286.7m in the 2Q21 from US$242.8m in the 2Q20. EBITDA advanced 18.6 per cent YoY to US$97m in the 2Q21 from US$81.8m in the 2Q20. As a result, the EBITDA margin edged up from 33.7 per cent to 33.8 per cent over the same period. Net income increased 43.8 per cent to US$47.7m in the 2Q21 from US$33.2m in the year-ago period. ...
At Lafarge Africa Plc (Holcim group) has reaffirmed its commitment towards affordable and clean energy, through the launch of a new set of 52 LNG-fuelled trucks. The implementation of the natural gas powered trucks in partnership with Ecologique will improve environmental performance as LNG generates 30 per cent less CO 2   t han fuel oil and 45 per cent less than coal. The combustion ...
Bedeschi has signed a new order with Italcementi (HeidelbergCement group) for the supply of clay handling equipment and other sticky materials. The machines will operate at the Matera plant, Italy.   The installation includes a Bedeschi double-roller crusher installation receiving incoming material discharged by dumping trucks.   The crusher has a design capacity of 400tph, with two mo...