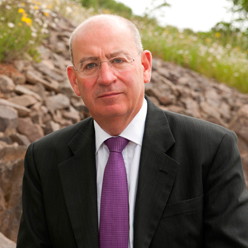 Hanson UK chief executive officer, Patrick O'Shea, is stepping down in December after eight years at the head of the construction materials business. His successor will be Daniel Cooper, who is currently northern regional general manager for Hanson Australia.

Patrick (pictured right) joined Hanson PLC in 1990 and held a variety of senior financial and operational roles before becoming chief executive of Hanson Pacific in 2001. In 2003 he added responsibility for continental Europe to this role, becoming chief executive, Hanson Continental Europe and Asia. He was appointed managing director of Hanson Aggregates UK in June 2004.

When Hanson PLC was acquired by HeidelbergCement Group in 2007, Patrick was appointed CEO of the combined UK business, which brought together Hanson's aggregates and building products operations with HeidelbergCement's Castle Cement business to form Hanson UK.

His tenure encompassed the longest and toughest recession ever experienced in the construction industry. "It's not been easy but I have enjoyed the challenge of leading the company through this difficult period and into a position where I believe we are well placed to take advantage of the opportunities which lie ahead," he said. "I am confident that the company has a bright future and I look forward to watching it prosper and grow."

Daniel Cooper joined Pioneer Concrete in Australia in 1993. Hanson acquired Pioneer in 2000 and Daniel held a number of operational, commercial and customer service management roles, including regional general manager for Western Australia.
Published under
Cement News