The Baltic Dry Index continued its downward trend of the past month, falling to 728 on 15 August and reflecting the latest developments in the dry bulk markets.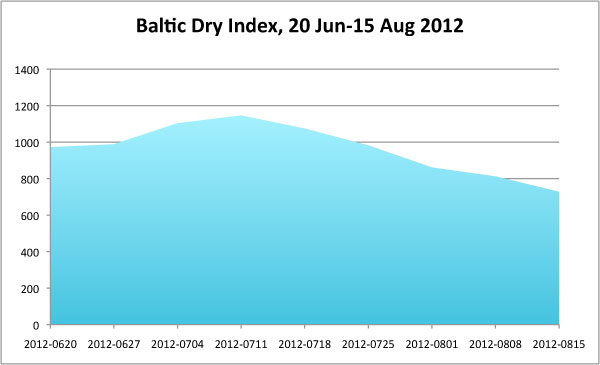 The summer break saw Handysize rates plunge further. In the Atlantic Basin, the round voyage rate fell 30 per cent from US$11,500/day to US$8000/day between 1-15 August. Price cuts in the Pacific were more modest as the Pacific RV counterpart contract experienced a 19 per cent decline from US$7750 to US$6250. The TCT Cont/Far East slipped from US$21,500 to US$19,000/day.
In the Panamax market, customers also benefited from a downturn with both transatlantic and TCT Far East RVs registering a cut in average prices of around 21 per cent over the fortnight ended 15 August. With contracts standing at US$740/day and US$7300/day for the transatlantic and TCT Far East RV, respectively on 1 August, they both fell to US$5800/day over the subsequent two weeks.
The Capesize segment held up better, particularly the Richards Bay/Rotterdam tonnage rate which rose 10 cents in the week ended 8 August, but then slipped back to its 1 August rate of US$6.00/t. The TCT Cont/Far East contract edged down 15 per cent from US$21,500/day to US$18,250.
Published under
Cement News