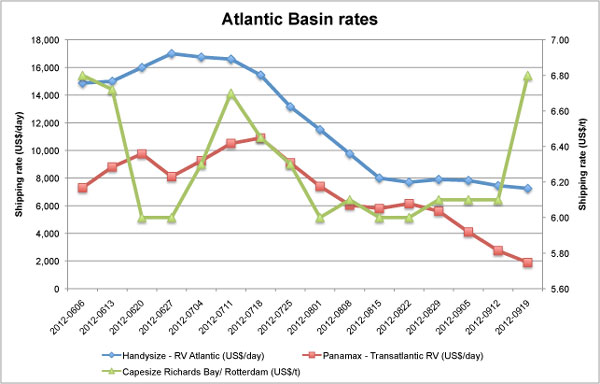 After hitting a new record low for the year at 661 on 12 September, the Baltic Dry Index edge up again to 772 one week later. Dahlman Rose attributes the increase to "modestly higher" Capesize rates. "Considering the downwards pressure currently in Chinese steel prices, we do not expect a significant boost to rates in the near term," Dahlman Rose strategists Omar M Nokta and Damien Fortune said in a note to clients.
The Handysize market followed the general trend in the Atlantic basin, which saw rates slip in the fortnight ending 19 September as a lack of cargoes continues to plague the market. RV Atlantic rates fell from US$7825/day to US$7250/day over the period. Their Pacific counterpart saw daily prices rise from US$7600 to US$8250, with the second week noting the stronger growth as higher volumes were shipped and tonnages for spot cargoes tightened. TCT Cont/Far East rates slipped from US$16,000/day to USS$15,000 in the first week but then remained stable.
Panamaxes saw a price collapse in Transatlantic RVs, which fell from US$4100/day on 5 September to US$1890 on 19 September. Shipbrokers fared better on the TCT Far East RV as although rates fell by nearly 17 per cent from US$4500 to US$3750/day in the week ended 12 September but then partly-recovered to US$4100/day in the following seven-day period. In China, officials have approved a US$100bn stimulus package including 25 new subway lines and thousands of kilometres with new highways. This promises the potential of improve iron ore and coal shipments and could just be what the market is looking for.
The Capesize segment made further gains with TCT Cont/Far East rates up nearly 15 per cent from US$19,725/day to US$22,600. After remaining stable for some time, the Richards Bay/Rotterdam contract jumped from US$6.10/t to US$6.80/t.
Published under
Cement News