Canada has seen a real softening in its cement market with major cement companies seeing an annual fall of 15-16 per cent, according to Michael McSweeney, president and CEO of the Cement Association of Canada (CAC). Nevertheless, further challenges remain ahead.
During his presentation at the Cemtech Americas conference, held at the Ritz-Carlton Orlando, Grande Lakes, USA, from 7-10 December 2015, Mr McSweeney said the industry was "on the cusp of significant efforts towards transitioning to a low-carbon economy." He predicted that in about one-year's time the vast majority of Canadians and all but one of the country's cement plants will live and operate in an economy that has put a price on carbon.
However, Mr McSweeney believes that the climate agenda presents an economic opportunity and a moral imperative to the industry. He highlighted the efforts made by the sector in reducing its carbon footprint and urged delegates to celebrate the success and innovations already achieved.
But challenges remain. Examples include carbon leakage as cement production migrates to countries with less-strict carbon legislation and finding suitable measurement instruments to chart the economic, social and environmental value of a key building material such as concrete.
To overcome these issues, the CAC president emphasised the value of carbon pricing and true life cycle accounting of activities such as construction, including energy accounting. Moreover, he stressed the importance of dialogue between the cement industry and stakeholders such as government, shareholders, environmental groups and surrounding communities. He urged the sector to come to a collective solution that would enable the cement and concrete industry, taxpayers and the economy as a whole to thrive in a carbon-constrained world.
Watch the full video here: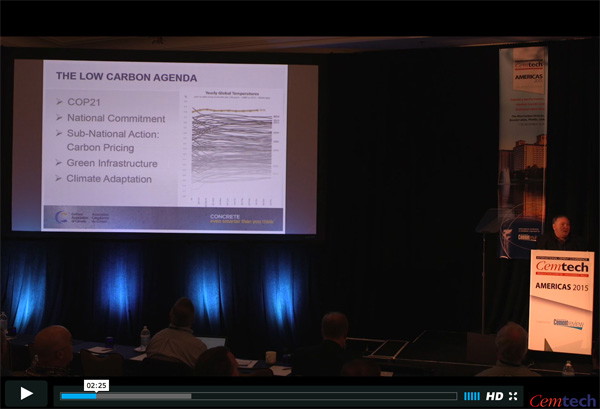 Published under
Cement News