Dangote Cement to target 76.5Mta capacity in Africa by 2020, CEO tells Cemtech 25th anniversary conference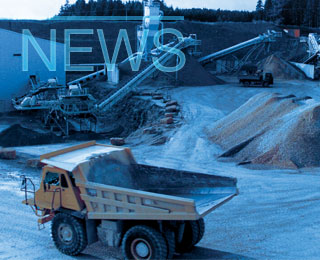 Cemtech's 25th anniversary celebrations have commenced as the international conference and exhibition series opens its doors in Dubai, UAE, for its annual Cemtech Middle East & Africa meeting.

In his welcome address to delegates conference director, Thomas Armstrong, welcomed Guest of Honour, His Excellency Sheikh Yasir Al Qassemi, General Manager of Union Cement Company and Chairman of the UAE Cement Producers' Association, alongside senior industry figures including Ahmad Al Rousan, General Secretary, Arab Union for Cement and Building Materials (Syria) and a record 290 cement professionals from 35 countries.
The keynote presentation was delivered by Onne Van der Weijde, CEO of Dangote Cement, Nigeria's largest cement producer and an emerging major with 45Mta of capacity in sub-Saharan Africa.

In recent months the company has shifted to an aggressive low pricing strategy in an effort to boost volumes, with growth rates in excess of 20 per cent stimulating a strong response from consumers.

Africa's most dynamic cement company is forging ahead with an new wave of capacity expansions planned for Senegal, Kenya and Ethiopia.

According to Mr Van der Weijde, Dangote is now on track to deliver 76.5Mta of cement capacity in 14 countries by 2020, representing 24 per cent of Africa's cement capacity, up from 18 per cent in 2015.

The conference continues with contributions from cement producers based in Saudi Arabia, Iran, Nigeria, Rwanda and Pakistan. It is accompanied by a large equipment exhibition featuring leading equipment and engineering service providers, including Fives Group (France), Loesche GmbH (Germany), Magnesita (Brazil) and many more.
Published under
Cement News