Vietnam's Ministry of Construction develops 2030 industry strategy; country targets 5Mt annual growth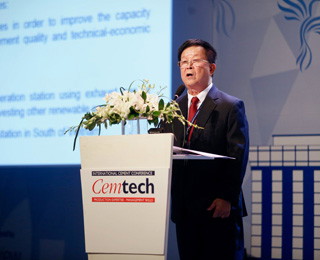 The government in Vietnam has initiated a comprehensive industry review in an effort to kick-start a step change in efficiency and environmental performance of the industry, as the country targets a domestic consumption growth of 5Mta.
"The Vietnam government has instructed the Ministry of Construction to plan a cement industry development strategy for the period until 2030, while also looking ahead to 2050," explained Dr Nguyen Quang Cung, President of the Vietnam National Cement Association (VNCA), in his keynote speech addressed to delegates at Cemtech Asia 2018 international cement conference and exhibition, taking place in Hanoi on 24-27 June.
"As part of this strategy, several key targets have been released. This includes using advanced, modern and energy-saving technologies, ensuring environmental protection and limiting the excess construction of cement plants to reduce the environmental impact," he added.
Vietnam is in a rapid development phase, with its cement ranked among the top 10 in the world.
The industry development strategy will support the ongoing country modernisation efforts as Vietnam seeks to drive up efficiency and environmental performance of its asset base.
Dr Cung also announced upcoming investment projects, including the construction of five new clinker production lines with upwards of 5000tpd of capacity, alongside upgrading existing lines, especially less-efficient lower capacity producers.
Environmental concerns will also be addressed in part by stricter regulation via new online emission control monitoring systems expected to be introduced to all production lines, while waste heat recovery systems are being considered for 50 plants.
New distribution terminals are also expected to be constructed at various coastal locations in south Vietnam, which will facilitate more efficient domestic and international cement distribution.
Moreover, the industry is also aiming to reduce cement loss and dust pollution by embracing new bagging technologies.
Looking ahead, the country's cement sector is striving to increase its scale even further, supported by the latest technology and environmentally-friendly solutions. The industry plans to focus on production for the domestic construction market and production is expected to increase by 5Mta by 2025.
Current status of Vietnam's cement industry
The country's actual production capacity presently lies at 113Mta from 82 lines. Domestic consumption reached 60.2Mt in 2017, with 65-67Mt forecast for 2018.
Following recent developments in China, Vietnam has become the largest cement exporter in the world. Subsequently, export prices increased 25 per cent YoY in 2017. The country exports to 38 markets, with the Philippines as its leading export market.
Cemtech Asia 2018, organised by International Cement Review, is being held at the Meliá Hanoi, Vietnam, on 24-27 June.
Published under
Cement News